The Long Historic Tale Of Aug. 28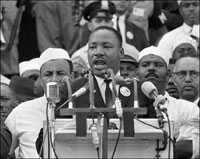 When Barack Obama formally accepts the Democratic presidential nomination Thursday evening, it will mark the latest in a long line of historic events in American history on Aug. 28.
Obama is the first African-American presidential nominee for a major political party.
His acceptance speech will occur exactly 45 years after the Rev. Martin Luther King Jr. stood in front of the Lincoln Memorial and delivered his "I Have a Dream" speech, one of the most inspirational orations in history.
King's speech is not the only civil rights anniversary on Aug. 28.
On this date in 1955, a black teenager from Chicago, Emmett Till, was forcibly taken by two white men from his uncle's house in Money, Miss., because they said he had whistled at a white woman. Three days later, he was found murdered.
Some Democrats might want to mark the 40th anniversary of their party's nominating Sen. Hubert H. Humphrey of Minnesota, against a backdrop of resistance and riots in Chicago.
There was more political-related history on this date — in 1981, John Hinckley Jr. pleaded innocent to charges that he had tried to assassinate President Ronald Reagan outside a Washington hotel.
And in 1996, the Democrats returned to Chicago and nominated President Bill Clinton for a second term.
All in all, it's a historic week.
On Aug. 26, Hillary Clinton — who enjoyed huge support from American women — addressed the convention and announced her all-out support for Obama. On that day in 1920, the 19th Amendment to the U.S. Constitution — which gave women the right to vote — became official.
And Aug. 27 is also the 100th anniversary of the birthday of the late President Lyndon Johnson. Johnson championed the Civil Rights Act of 1964, an act outlawing racial segregation in American institutions and paving the way for an African-American to be nominated for president.