Obama & Aaron Sorkin, Together Again For the Very First Time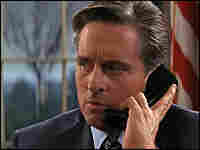 Poke! Twelve hours before last night's confetti- and columns-filled coronation of Barack Obama at Denver's Invesco Field, the big Aaron Sorkin news was that the creator of The West Wing and A Few Good Men had been tapped by bullying but brilliant stage and film producer Scott Rudin to pen a movie about the social-networking phenomenon Facebook.
Status update! By midnight last night, the name of the man who created West Wing and A Few Good Men was suddenly on the furiously flapping lips of MSNBC's Keith Olbermann and Chris Matthews, for a new reason. The two newsmen, along with NBC Nightly News anchor Brian Williams, were practically back-patting themselves with pleasure for catching supposed echoes in Obama's speech with the Sorkin script for the 1995 film The American President.
"It's not because John McCain doesn't care. It's because John McCain doesn't get it," the candidate said last night, in one of his many crisply delivered zingers at the presumptive Republican nominee.
Compare that to Sorkin's version, with which Michael Douglas -- as fictional President Andrew Shepherd -- towel-whips Senator Robert Rumson (Richard Dreyfuss): "Bob's problem isn't that he doesn't get it. Bob's problem is that he can't sell it."
What 'West Wing' character was based on Obama? After the jump ...
In the current issue of GQ, Sorkin -- a longtime D.C. insider and erstwhile lover of Maureen Dowd -- casually mentions his admiration for Obama as orator and describes his one and only encounter so far with the sparkling new Democratic Presidential nominee.
"He flattered me," Sorkin remembers of his brush with Obama at a fundraiser, "by saying, 'My intention is to steal a lot of your lines.'"
West Wing fans will know that the admiration goes in both directions, of course. According to Britain's Guardian, Obama was the model for West Wing presidential hopeful Matthew Santos, played by Jimmy Smits.
"'I drew inspiration from [Obama] in drawing this character," West Wing writer and producer Eli Attie told the Guardian. "When I had to write, Obama was just appearing on the national scene. He had done a great speech at the convention and people were beginning to talk about him."
Today's sport for Sorkin buffs will be finding more possible (and impossible) Sorkin homages in Obama's acceptance speech. Surely you West Wing fans out there will come up with a few. Let us know.
And speaking of admiring lifts, let's hope Sorkin's Facebook flick has a fraction of the wit and knowing of this pitch-perfect parody currently ricocheting around the YouTube universe: