Poking Fun At The 'Stuff White People Like'
Lander reads from 'Stuff White People Like'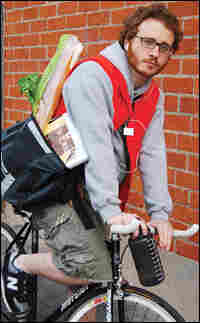 Discussion Highlights
Perpetuating a 'snobby' mentality
How does the book translate internationally?
Book Tour is a Web feature and podcast. Each week, we present leading authors of fiction and nonfiction as they read from and discuss their work.
The title Stuff White People Like: A Definitive Guide to the Unique Taste of Millions is obviously designed to provoke. The book began life as a conversation over instant messenger between Christian Lander (who's white) and a friend (who's Filipino) about the genius HBO television series The Wire. His friend said that he didn't trust any white people who didn't watch the show. The two then began to wonder what white people were doing instead of watching the show.
"Yoga," the friend suggested.
"Seeing plays," Lander countered.
"Getting divorced."
"Therapy."
Lander thought this conversation would be a funny idea for a blog. It turned out to be a very popular one. The Web site "Stuff White People Like" soon attracted about 300,000 hits a day. The list ballooned to include organic food, fair-trade coffee, indie music, Apple products and vintage T-shirts, presumably worn with irony. It must be noted that when NPR was added, some of the folks who work here were a little miffed.
"Clearly, the guy who wrote [the blog] has never gotten into a cab in Washington, D.C.," a co-worker griped. "None of the cab drivers here are white, and all of them listen to NPR, all day long!"
But Lander, who dropped out of a Ph.D. program at Indiana University, says the idea is intended to make fun of stereotypes and start conversations about them. And he succeeded. Lander managed to get thousands of people to talk about racial stereotypes, to question their own assumptions, and to factor class and education into discussions of racial identity. (For example, it's safe to say that my working-class white grandparents really dislike everything on Lander's list. Except maybe for vintage T-shirts, which they would just call "old." And which they would wear, sans irony, while watching TV — something that Lander naturally claims that white people never watch.)
But there's another valuable lesson to be learned from Lander and his Web site: He sold the concept to a book publisher for a reputed $350,000.
This reading of Stuff White People Like took place in July 2008 at the Politics and Prose bookstore in Washington, D.C.
Excerpt: 'Stuff White People Like'
1. COFFEE
There is no doubt that white people love coffee. Yes, it's true that Asians like iced coffee and people of all races enjoy a cup. But it is a certainty that the first person at your school to drink coffee was a white person. It was obvious that they didn't enjoy it, but they did it anyway, until they liked it — like cigarettes.
As white people begin to age, a genuine taste for coffee will emerge. During this time white people will also develop a self- proclaimed "addiction." This leads to them saying things like "You do not want to see me before I get my morning coffee." White guys will also call it anything but coffee: "rocket fuel," "java," "joe," "black gold," and so forth. It's pretty much garbage all around.
It's worth noting that where white people buy coffee is almost as important as the drink itself. For the most part, white people love Starbucks, although they will profess to hate how the chain is now a multinational corporation. This hatred is often sublimated by their relief at seeing one in an airport. The best place for white people to drink coffee is at a locally owned coffeeshop that offers many types of drinks, free Wi- Fi, and some sort of message board that is peppered with notices about rooms for rent and bands looking for bass players.
White people are given extra points for buying Fair Trade coffee, because paying the extra $2 means they are making a difference while their peers are drinking liquid oppression.
2. RELIGIONS THEIR PARENTS DON'T BELONG TO
White people will often say they are "spiritual" but not religious. This usually means that they will believe in any religion that doesn't involve Jesus. The most popular choices include Buddhism, Hinduism, Kabbalah, and, to a lesser extent, Scientology. A few even dip into Islam, but that's much rarer, since you have to make real sacrifices and actually go to a mosque.
For the most part, white people prefer religions that produce artifacts and furniture that fit into their home or wardrobe. They are also particularly drawn to religions that do not require a lot of commitment or donations.
When a white person tells you "I'm a Buddhist/Hindu/Kabbalahist," the best thing to do is ask how they arrived at their religious decision. The story will likely involve a trip to Thailand or a college class on religion.
3. FILM FESTIVALS
White people can't get enough of film festivals, especially Sundance, Toronto, and Cannes. This love can be due to a number of factors.
Fact #1: 90 percent of white people have taken a film class at some point in their life.
Fact #2: White people like feeling smart without doing work — two hours in a theater is easier than ten hours with a book.
Fact #3: If white people aren't going backpacking, they generally like to travel with a specific purpose.
Fact #4: 75 percent of white people believe they either have the potential to or will become filmmakers/screenwriters/directors at some point.
Fact #5: White people hate stuff that is "mainstream" — so they go to film festivals, where they see movies that every other person in their demographic wants to see. It's a pretty sweet way to rebel.
Fact #6: It is required by white-person law that you publicly declare foreign cinema to be better than Hollywood movies, and on par with indie film.
Fact #7: White people earn credibility by being into films from strange countries: "Oh, you liked Sideways? Yeah, I didn't see it, I'm really into Serbian film now. They had a great retrospective at the Vancouver Festival."
Excerpted from Stuff White People Like by Christian Lander Copyright © 2008 by Christian Lander. Excerpted by permission of Random House Group, a division of Random House, Inc. All rights reserved. No part of this excerpt may be reproduced or reprinted without permission in writing from the publisher.
Books Featured In This Story
Stuff White People Like
The Definitive Guide to the Unique Taste of Millions
Paperback, 211 pages |
purchase
Buy Featured Book
Title

Stuff White People Like

Subtitle

The Definitive Guide to the Unique Taste of Millions

Author

Christian Lander
Your purchase helps support NPR programming. How?