Bank Of America's Ken Lewis Takes Biggest Risk Yet
Bank Of America's Ken Lewis Takes Biggest Risk Yet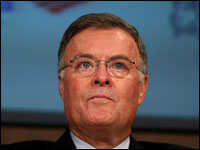 While many people are bailing out of investments in the U.S. financial sector, Bank of America Chief Executive Ken Lewis is taking a different tack: Lewis has struck a $50 billion deal to buy Merrill Lynch.
Some said he overpaid. But Lewis called it an "opportunity of a lifetime" and a chance to transform his bank into one of the largest financial services firms in the world.
Lewis said it took almost no time to make the decision.
"It didn't take but two seconds to see the strategic implications, the positive implications," he said. "So then it got to the harder parts. You know, the deal itself."
In his seven-year tenure at the helm of Charlotte, N.C.-based Bank of America, Lewis made many big buys: FleetBoston, MBNA, LaSalle and Countrywide — to name a few.
But none quite matched the risk, expense and scope of Merrill Lynch.
Merrill Lynch has 60,000 employees who work in areas where Bank of America isn't a big player: investment banking, securities and wealth management.
Lewis's predecessor was known as a spendthrift who bought dozens of companies. And for most of his four-decade career, Lewis was the cleanup guy who made those deals work. He focused on cost-cutting in the bank's branches. To keep lines shorter during lunchtime and on payday, he hired part-time tellers. He invested in ATMs and other technologies that increased efficiency.
In fact, during an interview with CNBC in June of last year, Lewis insisted he was still focused on businesses that dealt directly with retail consumers. He even expressed disinterest in many of the companies he later ended up buying, like when he dismissed the possibility of buying Countrywide because he said the company's management "didn't like the total business."
A native of Mississippi who was raised in Georgia by a single mother, Lewis grew up in Southern banks, far removed from the downtown New York culture.
And when asked in that same interview about Countrywide whether he'd consider buying a Morgan Stanley or a Merrill Lynch, he said the different cultures would make such a deal difficult. Instead, he said, he would build an investment banking unit to compete with them.
But the past year wrought enormous change. The once-mighty investment banks that waded in too deep with risky mortgage-backed securities now need stronger partners.
Michael Useem, a professor at the University of Pennsylvania's Wharton School of Business, says Lewis simply changed his mind.
"Ken Lewis obviously has a vision here — because we've seen it unfolding before our very eyes — of building a full-service financial institution," says Useem.
It's not without risk. First of all, there are critics who say Lewis could have gotten Merrill Lynch for far less if he'd just waited. And there's the challenge of integrating two very different companies in different business lines.
But Lewis said Monday he has long believed retail banks would eventually own investment banks.
"As we weighed everything, we said it is better to seize on this opportunity as we see it at the moment, as opposed to trying to catch the very bottom and possibly not catching it at all," Lewis said.
He acknowledged all the challenges that would come with it but essentially reminded people that he's the cleanup guy.
"We know we have some hard work to do in this transition, but in fact we're good at that," he said.
Useem said Lewis has staked his company and career on a deal that ordinarily would have taken months to decide.
"So call it bold, call it risky," Useem said. "It may pay off; it may not."
At a time when few banks have the guts or the money to gamble, Lewis has just placed his biggest wager ever.
Related NPR Stories