'Nick And Norah,' Setting A New York Night To Music
'Nick And Norah,' Setting A New York Night To Music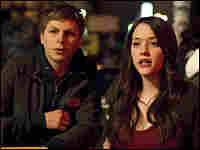 Nick and Norah's Infinite Playlist
Director: Peter Sollett
Genre: Romantic Comedy
Running Time: 90 minutes
Rated PG-13 for mature thematic material including teen drinking, sexuality, language and crude behavior.
Nick's a sweet, dweeby high-school kid with girlfriend problems — a Michael Cera sort of guy, basically, so it's nice that Michael Cera actually plays him. His girlfriend, Tris, walks all over him, and as you can hear from the haplessly pathetic phone messages he leaves for her, he's having trouble dealing.
Left to his own devices, Nick would just sit home and mope. But he plays in a band, and there's a secret indie-rock concert he and the band are hoping to find somewhere in New York tonight.
A lot of other kids are trying to find it, too, including Nora, played by Kat Dennings as a smart, sarcastic Catholic-school girl who does not want to appear dateless when she's spotted by what she would call a frenemy.
So scanning the crowd, Norah spots the least threatening guy — that would be Nick — asks him to be her boyfriend for five minutes, and kisses him passionately. Which would be great, except the frenemy who recognized her is ... Nick's girlfriend, Tris.
Having thus met cute, Nick and Norah will spend the rest of the movie sparring cute, trading quips and insults, and at one point, a punch that leaves Nick temporarily speechless. Happily, things mellow along the way. (You can tell, despite the sparring, because Nick lets Nora check out both his car and his iPod.)
But though these two really grow on you, what's almost more remarkable than Nick, Norah or their playlist (which may not be infinite, but really does include some great music) is the quirky, melting-pot world director Peter Sollett creates around them.
Vibrant like New York, youthful like the stars, awkward like the characters they're playing, it's unselfconsciously diverse. Nick, for instance, is the only straight member of his rock band, a queercore group that in most movies would fade into the background — but that here becomes more and more central.
Norah's a Jewish girl in a Catholic school, a fact that goes as unremarked as the suburban/urban and sophisticate/doofus character divides.
Sex and alcohol figure in the film, but in ways that are gratifyingly unexpected. And gum — lord, what happens with gum in this picture you will never, ever forget.
Nor, I suspect, will you forget Nick and Norah, who cruise around a New York that seems as romantically supercharged as in any Woody Allen movie, listening to that infinite playlist and falling for each other, as audiences fall for them.
Web Resources