Writer Hampton Transforms 'The Seagull' On Stage
Writer Hampton Transforms 'The Seagull' On Stage
Watch A Scene
'I Have Never Acted In A Play Of That Description.'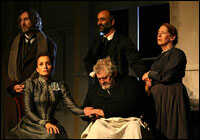 An adaptation of Anton Chekhov's play The Seagull opened Thursday on Broadway.
A New York Times critic called it: "The finest and most fully involving production of Chekhov that I have ever known."
The play — a funny and tragic story about love, success, family and theater — is a new version by Christopher Hampton, who also wrote the screenplays for Atonement, The Quiet American and Dangerous Liaisons.
Hampton has adapted other Chekhov plays — Three Sisters and Uncle Vanya — but he doesn't speak Russian, unless you count a year in high school.
So in revising The Seagull, Hampton tells NPR's Robert Siegel, he sat with a Russian who guided him through the piece, which he calls the "best play that exists about writers and actors."
"What we're looking for is to really try to fathom exactly what Chekhov's intentions were and to reproduce them," Hampton says. "To make the audience laugh when he wanted them to laugh and to make them cry when he wanted them to cry."
In the play, Kristin Scott Thomas, who has acted in films like Four Weddings and a Funeral and The English Patient, plays the mother to Mackenzie Crook, who appeared in the original British version of the TV show The Office.
They're the two most compelling characters in a group of Russians who gather at a country estate.
In revising the play, Hampton says, he paid attention to the number of words in the sentences to meter the language and make it more concise. For instance, the mother and son trade a series of one-word insults, which he says is very powerful and had been translated differently in previous versions.
"Somehow we have a tendency to dilute what in Chekhov is always very crisp and quite blunt, actually," Hampton says. "Chekhov used to be thought of as a lyrical, melancholy kind of writer, and he isn't. He's a very muscular, energetic, clear, lucid writer."
When The Seagull was first performed in Russia, it was received so poorly by audiences — because it was so edgy, says Hampton — that Chekhov fled and vowed never to write for the theater again.
"Fortunately it was [Constantin] Stanislavsky who rescued and remounted it, and persuaded Chekhov to come back to see it properly done," says Hampton, referring to the Russian theater director. "And the play was a huge success and to that we owe the other three plays, the three later great plays ... and the theater might easily have lost him."
Hampton is trying to get back to that edgy interpretation that he believes Chekhov intended. And to channel Chekhov, Hampton went to his house last week in Yalta, Ukraine, where he died at 44 of tuberculosis.
"It was sort of extraordinary to be there ... and see the desk on which he had written Three Sisters, and the cherry orchard, looking out at the sea through the trees," he says. "And I felt very close to him."