Glowing Gene's Discoverer Left Out Of Nobel Prize
Glowing Gene's Discoverer Left Out Of Nobel Prize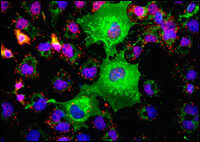 Web Resources
The Nobel Prize in chemistry was awarded this week to three scientists working in the United States with a jellyfish protein that glows in the dark. But the scientist who found the gene for that protein, and gave it to the eventual Nobel winners, is no longer working in the field. He now drives a shuttle bus for an auto dealership.
The three chemistry Nobel Prize winners have advanced our understanding of the inner workings of cells by using the jellyfish protein to tag the tiny, intricate parts.
But to do that, back in the 1990s, those scientists first needed the gene that creates the glowing protein.
One of the winners, Roger Tsien of the University of California, San Diego, says he was lucky. At just the right time, a researcher named Douglas Prasher at the Woods Hole Oceanographic Institution in Massachusetts isolated the gene that Tsien wanted.
"So I found his phone number, called him up, and to my amazement he was willing to give out the gene," Tsien says.
Another of the Nobel laureates, Martin Chalfie of New York's Columbia University, also got the gene from Prasher.
But Prasher, it turns out, no longer works in science. He is now driving a courtesy shuttle for a car dealership in Huntsville, Ala.
"I got a hard luck story," he says.
Prasher doesn't have any regrets about giving away the gene. Tsien and Chalfie did great work, he says, which he probably couldn't have done because the National Institutes of Health had rejected his funding proposals.
"At that time, I knew I was going to get out of it; my funding had already run out," Prasher says.
He went to work for a laboratory run by the U.S. Department of Agriculture, then took a job with a NASA contractor in Huntsville. But two-and-a-half years ago, NASA cut his project and Prasher lost his job.
He tried to find a job in science but failed. So he went to work at the car dealership.
"I never thought I would enjoy working with people so much. 'Cause doing science is kind of a loner thing; but doing this, I meet new people every day, and I hear all kinds of stories, some of which I don't need to hear. Because I'm kind of a bartender," Prasher says.
But the job does not pay enough to support his family.
"Our savings is gone; just totally gone," he says.
Prasher is still looking for a research job, but he worries that after two-and-a-half years, his knowledge and skills may be out of date.
That's not what some of his former colleagues say. One called Prasher's current situation a "staggering waste of talent."
In December, Tsien and Chalfie, along with Japanese researcher Osamu Shimomura, will go to Stockholm and receive almost a half-million dollars.
Prasher says, "If they're ever in Huntsville, they need to take me out to dinner."