When TV Changed Politics: Adlai Stevenson Vs. Ike
When TV Changed Politics: Adlai Stevenson Vs. Ike
Third of a five-part series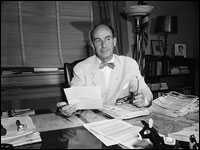 Speaking To The People
Hear Stevenson's speech at the Democratic National Convention on July 26, 1952.
Adlai Stevenson's Democratic National Convention acceptance speech
More In The Series
Adlai Stevenson, who tried to "talk sense to the American people," was an old-fashioned intellectual who believed in long speeches and the power of words.
But in 1952, Stevenson faced his Republican opponent, Dwight Eisenhower, in the presidential race on a new battleground — television.
While Eisenhower boiled his campaign down to a few sound bites — "Ike for President" and "You like Ike, I like Ike, everybody likes Ike" — Stevenson believed in longer speeches to sell a message. So he bought 30-minute blocks on TV, but nobody tuned in to watch them.
Ultimately, the former Illinois governor lost to Eisenhower.
Radio Diaries talked with Stevenson's son, Adlai Stevenson III; Newton Minnow, who worked as an assistant legal counsel to Stevenson in 1952; David Schwartz, the chief curator of the Museum of the Moving Image; and Jean Baker, who wrote The Stevensons: A Biography of an American Family.
This story was produced by Joe Richman and Samara Freemark of Radio Diaries.