Anita O'Day: High Times And Hard Times
Anita O'Day: High Times And Hard Times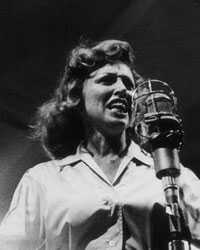 Bob Parent/Hulton Archive/Getty Images
The distinctive and celebrated jazz singer Anita O'Day experienced both "high times and hard times" — as her autobiography is so aptly titled.
In the mid-1940s, O'Day was a celebrated vocalist with the Stan Kenton and Gene Krupa orchestras, and she had a string of highly regarded albums in the mid-50s. She was also a drug addict who squandered her chance for super-stardom. Nevertheless she made a profound impact on jazz with her exceptional range of improvisation and her skillful interpretion of lyrics.
Born Anita Belle Colton in Chicago, Ill. on October 18, 1919, O'Day got her start as a teen. Eventually changing her name to O'Day in the late 1930s, she began singing in a jazz club called the Off-Beat, a popular hangout for musicians such as band leader and drummer Gene Krupa. In 1941 she joined Krupa's band and a few weeks later Krupa hired trumpeter Roy Eldridge. O'Day and Eldridge had great chemistry on stage: Their duet "Let Me Off Uptown" became her first big hit, boosting the popularity of the Krupa band. Down Beat magazine named O'Day "New Star of the Year." A year later she was selected as one of the top five big band singers.
After that stint with Krupa, O'Day joined Woody Herman's band, then left after a year and returned to Krupa. Singer Jackie Cain says that the first time she saw O'Day with the Krupa band she was impressed. "She (O'Day) sang with a jazz feel and that was kind of fresh and new at the time," Cain recalls. O'Day later joined Stan Kenton's band, with whom she cut an album featuring their hit tune, "And Her Tears Flowed Like Wine."
In the late '40s, O'Day struck out on her own. She teamed up with drummer John Poole and they played together for the next 32 years. Her album Anita, which she recorded on producer Norman Granz's new Verve label, took her career to new heights. She performed at festivals and concerts with such illustrious musicians as Louis Armstrong, Dinah Washington, George Shearing and Thelonious Monk. O'Day also appeared in a documentary filmed at the Newport Jazz Festival in 1958, called Jazz on a Summer's Day. It made her an international star.
O'Day's drug problems first surfaced in 1947 when she and her husband were arrested for marijuana possession. She was arrested again for marijuana in October 1952 and served 6 months in prison following yet another arrest, in March 1953, this time for heroin.
Throughout the '60s she continued to tour and record while addicted to heroin. In 1967 she nearly died from an overdose. O'Day beat her addiction and returned to work to perform at the 1970 Berlin Jazz Festival. She chronicled her ups and downs in her autobiography, High Times, Hard Times.
Anita O'Day lived in Southern California and continued to sing professionally until she died on November 23, 2006. Before her death, writer Will Friedwald said of O'Day, "she still has this excitement to her and this spontaneity. She can still turn an audience on."
Click here to view the playlist.
Link to NPR's Basic Jazz Record Library