Musical Mayhem: Top 5 Creepy Classics
From the ancient "Day of the Dead" ("Dies Irae") melody to musical depictions of ghouls, witches and haunted mountains, composers for centuries have tapped into their darker sides to serve up deliciously devilish music. Halloween is the perfect time to pay heed to a few sinister strains from the world of classical music. And, if the candy runs out, try these tunes on the trick-or-treaters.
1. Stravinsky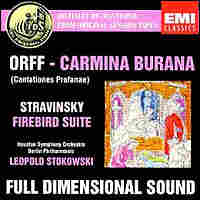 'Firebird Suite: Infernal Dance'
With its pounding percussion, blasting brass and heart-racing rhythms, Stravinsky's "Infernal Dance" will pump up the kids without the aid of any Tootsie Rolls, Snickers or Twizzlers.
Leopold Stowkowski conducts the Berlin Philharmonic. (EMI 65207)
2. Saint-Saens
The devil perches on a gravestone in a cemetery. Skeletons dance around him while he scratches out a tune on his fiddle. Who could ask for a more fiendish setting? Within this ghoulish scene, Saint-Saens weaves a hummable melody that bores into the brain. Charles Dutoit conducts the Philharmonia Orchestra (London 414460)
3. Manuel De Falla
Here's another fiendish fiddle tune — replete with screeching strings and hammering piano — bound to keep the kids on edge. Rachel Barton, violin; Patrick Sinozich, piano. (Cedille 041)
4. Franz Liszt
If Franz Liszt answered the door on Halloween, he might be handing out either Bibles or wormy apples. A musical Jekyll and Hyde, Liszt was deeply in touch with his dark side, but also a man of the cloth. This Mephisto Waltz is one of several of his musical depictions of the devil in three-quarter time. George Solti conducts the Chicago Symphony Orchestra. (London 443444)
5. Hector Berlioz
'Symphony Fantastique: Dream of the Witches' Sabbath'
Nothing induces trembling quite like a bad dream. Hector Berlioz's "Symphonie Fantastique" is something of a 45-minute musical nightmare. In the opium-induced "Dream of the Witches' Sabbath," ghouls ride their broomsticks to a demonic orgy. Paavo Jarvi conducts the Cincinnati Symphony Orchestra. (Telarc 60578)
Mark Perzel is a 30-year radio veteran and the executive producer at WGUC-FM, Cincinnati's Classical Public Radio.
Cincinnati-based WGUC plays classical music 24 hours a day, reaching out to both classical newcomers and longtime aficionados.
More Stories About the Music