Funk From Way South Of The Border
Rabbits and Carrots is the strangest name for a funk band this side of Columbus, Ohio's Suspicious Can Openers. And it's certainly not a name that suits Mexico's hardest funk outfit. You'd expect something funky from Tequila, but Rabbits and Carrots?
The group's sole LP on Mexican monolith Musart Records stands as the pinnacle of Mexican funk. It was the introduction to the "hard" side of the funk spectrum for all of us who who were rediscovering old records before eBay. Only the deepest of the deep collectors had a copy, and only the luckiest among that elite group had a copy that played all the way through without skipping. Thankfully, that album has finally seen an official reissue on CD; the disc combines the album's frightful funk covers with the R&C's later 7" EP of four other funk masterpieces, including a tough-to-place take on James Brown's "Sex Machine" titled "Maquina De Amor."
So a brief survey of funk from way down south seems appropriate. Dig in with Vampisoul's Rabbits and Carrots reissue, and then dig a bit deeper to learn more about the sounds of urban Mexico in the late '60s and early '70s.
Funk From Way South Of The Border
Rabbits and Carrots
Song: 4 Culturas
from Soul Latino
Though it's an album of cover songs, the R&C's Soul Latino still holds its rightful crown in the Mexican funk kingdom. The band, led by the four Aguero brothers (and backed with horn-wielding session musicians from Mexico and New York), even gives James Brown's "Give It Up Turn It Loose" a sly knock in "4 Culturas," a nod to the massacre of college students at the Plaza de las 3 Culturas in Mexico City in 1968.
Perez Prado
Even mambo king Perez Prado dug into the funk bag. I always felt that his grunts and exhortations sounded a bit out of place in his swank mambo cuts. But they sound perfect in "Mexico 70," released to celebrate soccer's World Cup, held in Mexico City in 1970. Perhaps Prado's insistent groove helped propel Pele and the Brazilian team to victory over their Italian rivals.
Orquesta Lito Barrientos
Song: Push and Pull
from Onda Nueva de la Orquesta Lito Barrientos
by Orquesta Lito Barrientos
Known as "The World's Oldest Teenager," Rufus Thomas knocked out hit after hit on the Stax label, and many of those tunes inspired Mexican bands to record a funk cut or two. The Rabbits and Carrots dutifully covered "Do the Funky Chicken," and did a fine job. But Orquesta Lito Barrientos takes "The Push and Pull" to new heights with its interpretations of Thomas' hard-to-understand vocals and a rhythm section that could give Booker T & The MGs a run for their money.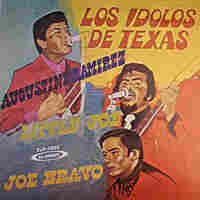 Joe Bravo
Song: Sissy Strut
from Los Idolos de Texas
The Meters' first hit, the disarmingly complex "Sissy Strut," stands as a South American funk staple, warranting more than a dozen documented covers as far south as Argentina. Something about these Mexican-Americans, funking away within minutes of the Rio Grande as their counterparts down south returned the favor, just begged for inclusion in this roundup.
Las Moskas
Song: Buscando la Felicidad
from Buscando la Felicidad 45
A parenthetical reference on the label states, "Rock Latino" -- that's the catchphrase any collector of Mexican funk knows to seek out. Why the Mexican record companies felt the need to categorize the music their releases contained is up for debate. But their foresight sure helps separate the funk from the slop -- especially on a record as obscure as this one.
Egon is the general manager of the Stones Throw label. He also founded Now-Again Records, which reissues American funk and soul albums, as well as the Soul-Cal imprint with Peanut Butter Wolf. He DJs funk and psychedelia sets at venues all around the world.
Related NPR Stories
Web Resources