In A 'Continuous City,' A Meditation On Connection
In A 'Continuous City,' A Meditation On Connection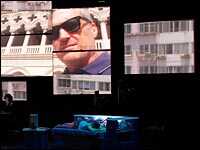 Eamon Lochte-Phelps/Builders Association
More 'City' Scenes
From Minnesota Public Radio, a story and slideshow on the show's Minneapolis staging.
Take the Stage Yourself
You can be part of 'Continuous City' — just shoot and upload a short video, and it may get incorporated into the show one evening.
Continuous City, the latest play from the Builders Association — an experimental theater company that's made a name using technology in innovative ways — centers on a corporation that's trying to sell a new brand of video phones.
That's on the surface. But the play — in which a father struggles to connect with his young daughter and a single man tries his hand at romance — is really about how to find space in a wired world for the timeless human need for relationships.
Mike is traveling the world, hawking those video phones and using them to stay in touch with his daughter back home. In the first scene, actor Harry Sinclair is onstage, while his daughter appears on the dozens of video screens arranged above him.
Later, that arrangement is reversed — but father and daughter never share the same space. And so the intimacy promised by the technology Mike champions can seem sometimes like a mirage.
"At first you feel you're in touch with someone you love, and then you feel almost deceived by the technology, because it can be a hollow feeling," says Sinclair, who's also a co-writer of the play.
The New York-based Builders Association specializes in plays that use technology and explore how humans navigate it. A previous show, Aladeen, took the audience inside call centers in India, investigating the connections between people who work in Bangalore and the customers they speak with in London and the United States.
(A new movie, The Other End of the Line, tries to make the standard Hollywood romantic-comedy formula work in that same territory.)
The idea for Continuous City grew out of the experiences of Sinclair's co-writer, Marianne Weems, who also directed the play. She uses video chat to keep in touch with her goddaughter.
"It's incredibly important to me," Weems says, "because that's how I get to see her, and she likes to chat to me because she can see me on the computer."
The title of the play, Continuous City, grew out of an experience Weems had on a trip to prepare for the play. In Shanghai, a replica of Paris's Eiffel Tower reinforced to her an idea: The world is so connected, through technology, that cultural symbols have lost some of their exclusivity.
"It was that idea of this global whirlwind where identities are blurred and cities borrow the icons of other cities," Weems says. "It's the expression of a continuous city."
Continuous City has already played short runs at arts centers in Illinois and Minnesota; it's touring to the Yerba Buena Center for the Arts in San Francisco, the Brooklyn Academy of Music in New York and Carolina Performing Arts in Chapel Hill, N.C.
Web Resources