Refueling A Franchise In 'Transporter 3'
Magali Bragard/Lionsgate Films
Transporter 3
Directors: Olivier Megaton
Genre: Action
Running Time: 105 minutes
Rated PG-13 for stylized violence and maltreatment of an Audi S8.
Magali Bragard/Lionsgate Films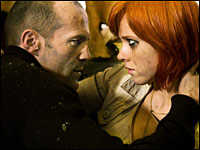 Magali Bragard/Lionsgate Films
As the first two Transporter movies established, their protagonist is extremely attached to his car.
So it's a neat joke that in the third installment Frank Martin (Jason Statham) can't move more than 75 feet away from his Audi S8. Any farther, and he'll blow up.
This is only a minor twist on Speed's premise, but then Transporter creator Luc Besson has never been overly concerned with originality. In building his globalized action cinema, the French producer-writer borrows liberally from Hong Kong, Hollywood and Britain's Guy Ritchie. The latter's work is where Besson found Statham, who plays a gangland delivery boy who lives near Marseilles, but speaks only English.
In Transporter 3, Frank takes a particularly grueling trip: to Budapest and beyond, with freckle-faced Valentina (Natalya Rudakova) in the passenger seat. Both have been outfitted with metal bracelets that will explode if they move away from the car.
Frank has no idea why he's been forced to make this drive, or why Valentina is along for the ride. Viewers get a little more information: The American archvillain (Robert Knepper) who ordered the transporter to head east is involved in a plot to illegally ship toxic waste. The Yank and his cohorts are also blackmailing a Ukrainian government minister (Jeroen Krabbe).
Kidnapped from a vacation on Ibiza, the Spanish party island, Valentina is initially surly and taciturn. As she becomes more gregarious, Frank's passenger is revealed as a techno-era hippie, with two tabs of Ecstasy in her purse and the Chinese character for "tranquility" tattooed on the back of her neck.
Valentina's interest in Frank grows during a fight that's also a striptease. The driver dispatches a half dozen thugs, using his tie, shirt and other garments as weapons. He only peels to the waist, but that's enough. Statham's abs are among his most expressive features.
Frank's fishing buddy, a small-town French cop played by Francois Berleand, is soon drawn into the case. He tracks the transporter as the adventure heads to Odessa, culminating in a sequence where Frank drives his car onto a moving train — twice.
These stunts were probably inspired by the motorcycling Michelle Yeoh's train-hopping scene in Supercop, a Jackie Chan vehicle; director Olivier Megaton is clearly a student of Hong Kong action flicks, although he's not blessed with a star of Chan's acrobatic skills. That must be why he shreds the physical-combat scenes with speedy edits, yielding sequences that have lots of energy but little flow and less grace.
Fueled by a soundtrack that bumps from Iggy to Tricky to Busta Rhymes, Frank's latest road trip compares well to the bigger-budgeted Quantum of Solace. The jokes are sharper, and the plot, while silly, is less preposterous than in the latest Bond misfire. The Transporter franchise may not run as long as 007's, and its star is no Sean Connery, but he and his vehicle are reliable enough that fans might someday be comparing Statham to the series' equivalent of Roger Moore.
Web Resources