The Year In Jazz: Best CDs Of 2008
It's been a remarkable year for jazz, and narrowing down a Top 10 list for 2008 takes a bit of work. Once again, there's room for enthusiasm and optimism about the state of jazz and its ability to inspire musicians and listeners alike. Here's a look (and a listen) back at some of the year's highlights.
Click here for more entries in the Best CDs of 2008 series.
The Year In Jazz: Best CDs Of 2008
David "Fathead" Newman
Song: Cedar's Blues
from Diamondhead
Fathead had quite a year, celebrating his 75th birthday with a new recording and a national diamond-anniversary tour. It was his birthday, but we got the gift in the form of Diamondhead. Along with drummer Yoron Israel, bassist Peter Washington, trombone master Curtis Fuller and pianist Cedar Walton, the group polishes nine gems for everyone to enjoy. "Cedar's Blues" demonstrates that even a rough year can sound good.
Chick Corea/Gary Burton
Song: No Mystery
from New Crystal Silence
In 1972, Chick Corea found the perfect musical partner in vibraphonist Gary Burton. Crystal Silence documented a musical conversation with the classical and jazz language these two would speak many times again, in the studio and on stages around the world. The New Crystal Silence finds Corea and Burton joined by The Sydney Symphony on disc one, and alone together on disc two. A treat here is "No Mystery," a chart from Corea's days in Return to Forever, which enjoyed its own renaissance in 2008.
Pat Metheny Trio
Song: Son of Thirteen
from Day Trip
Pat Metheny's trio recordings are few but memorable: He's churned out remarkable collaborations with the likes of Jaco Pastorius, Bob Moses, Dave Holland and Charlie Haden, as well as master drummer Roy Haynes. On Day Trip, Metheny meets up with bassist Christian McBride and drummer Antonio Sanchez; the three shoot off sparks from the first notes. Just try to keep from moving to the energy of "Son of Thirteen."
Steve Turre
Song: Rainbow People
from Rainbow People
From Rahsaan Roland Kirk to Ray Charles to Art Blakey, Dizzy Gillespie, McCoy Tyner and Tito Puente, Steve Turre's musical family is a rainbow of the highest order. Whether in the studio or onstage, the trombonist always takes music to a righteous level. For this year's Rainbow People, Turre mixes it up with Kenny Garrett, Mulgrew Miller, Peter Washington, Ignacio Berroa, Sean Jones and Pedro Martinez. The title track is just one of nine bright moments from one of 2008's best albums.
The Vanguard Jazz Orchestra
Song: Mean What You Say
from Monday Night Live At The Village Vanguard
The Vanguard Jazz Orchestra began life 42 years ago as The Thad Jones-Mel Lewis Orchestra. For most Monday nights since then, thousands have walked down the 16 steps of The Village Vanguard in New York to hear 16 men swing. Here, you get a taste of what drives this band -- and what drives people from around the world to hear the VJO mean what they say. Pianist Michael Weiss, trumpeter Scott Wendholt and tenorist Ralph Lalama all step up here.
Anat Cohen
Song: Jitterbug Waltz
from Notes from the Village
Anat Cohen plays clarinet, tenor and soprano saxophone and bass clarinet. Since her arrival in New York in 1999 from Berklee, Miss., Cohen has shown real inspiration at every turn, fueled by her time in Boston and her native Tel Aviv. Her creativity here is more informed by the talents of some of New York's top young players: Jason Lindner on piano and keyboards, Omer Avital on bass, Daniel Freedman on drums and percussion, and Gilad Hekselman on guitars. Cohen's take on Fats Waller's "Jitterbug Waltz" takes the rust and dust and makes it a modern must-hear.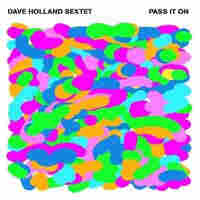 Dave Holland Sextet
Song: Pass It On
from Pass It On
Bassist Dave Holland crafts near-perfect compositions for players and listeners alike. Whether in a big-band or small-group setting, his first notes are enough to draw everyone into his tunes. There's always a group feel to what's going on, and the interplay is infectious. The title track to his new album, Pass It On, brings together altoist Antonio Hart, pianist Mulgrew Miller, trumpeter Alex Sipiagin, drummer Eric Harland and longtime Holland musical conspirator Robin Eubanks on trombone. Holland and his group have made one of this year's finest records -- pass it on.
SF Jazz Collective
Song: Footprints
from Live 2008: 5th Annual Concert Tour
Since 2004, The SFJazz collective has been a vehicle for musicians moving through the spheres of Thelonious Monk, John Coltrane, Ornette Coleman, Herbie Hancock and Wayne Shorter. Each participant also brings original material to the collective, resulting in both new bottles and new wine. This year, the collective generated original material from pianist Renee Rosnes, saxophonist Joe Lovano, vibraphonist Stefon Harris, drummer Eric Harland, bassist Matt Penman, trombonist Robin Eubanks, trumpeter Dave Douglas and saxophonist Miguel Zenon (one of this year's recipients of the MacArthur Genius Grant). An added thrill is the group's different reads on Wayne Shorter stories: Renee Rosnes' arrangement of "Footprints" leaves new tracks for listeners to follow through Shorter's domain. It's a nice gift for the master during the year of his 75th birthday.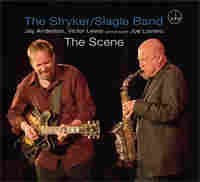 The Stryker/Slagle Band
Song: Six Four Teo
from Scene
I first saw Steve Slagle in the bands of Carla Bley and Charles Mingus. Dave Stryker impressed me working with Stanley Turrentine and Brother Jack McDuff. Stryker and Slagle have been on the scene together for more than 20 years, so you can imagine the memories they build on every time they go into the studio for a new recording. This time out, The Scene delivers in a big way. With bassist Jay Anderson and seasoned timekeeper Victor Lewis, along with tenor saxophonist Joe Lovano, you have an ideal mix of kindred spirits.
Owe Joe
from Gratitude
by Dick Oatts
Dick Oatts comes to Gratitude giving thanks for his time spent with Thad and Mel, Red Rodney, Ray Mantilla and Tito Puente, along with the other experiences that allow him to cover a lot of ground with his music. The gifted multi-instrumentalist shows up here with just his alto sax. It's plenty, as he works through eight originals with bassist Dave Santoro, trumpeter Joe Magnarelli, Gary Versace on piano and Hammond B3, and the very musical Tony Reedus on drums. This is one of Reedus' final recordings before his sudden passing last week.