Obama To Tackle Explosion In Federal Contracts
Obama To Tackle Explosion In Federal Contracts
First of a two-part series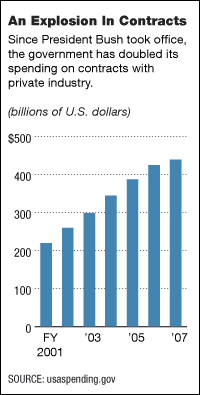 Federal Workforce Shrinks
While contract spending has increased, the number of federal civil servants has decreased:
1990: 2,250,000
2007: 1,871,000

Source: U.S. Office of Personnel Management
The economic crisis. Two wars. A flood of wounded veterans. Those are just a few of the huge problems that President-elect Barack Obama will face in office. But the president-elect has said he also plans to grapple with a dilemma that's much less visible: the explosion in government contracts under the Bush administration.
The Bush administration has hired private industry to take over more of the government's work than any administration ever. It has made history:
-Since President Bush took office, the government has doubled the amount of contracts with industry. The administration paid corporations more than $400 billion last year to work for everybody from the Forest Service to the CIA.
-The administration has given the majority of that contract money to companies that didn't have to compete to get it — or faced only limited competition.
-There are actually more contractors handling the war in Iraq than American troops.
All these figures come from government reports. And for the most part, these contractors aren't the ones making Humvees or computer systems or other kinds of products. The administration is paying most of the contract money to corporations to perform the kinds of services that federal employees normally do. And the administration has done all this with almost no public debate.
'Big Government' Backlash
"There has been a very quiet revolution in how the government performs its functions," says Katherine Schinasi, one of the top officials at the Government Accountability Office.
The GAO is the nonpartisan watchdog for Congress. It's based in a drab office building in downtown Washington, D.C. The offices along its marble hallways are filled with very cautious people — they're auditors. They don't speak in hyperbole.
"I think what worries me most is we are not sure how we got here," Schinasi says, "and we're not sure why we're here and, most troubling to me, whose interest is being represented. I believe that this is one of the most important issues that the new administration and subsequent administrations have to face."
Government officials have been hiring contractors to do some of their work since the United States was born. Congress used to hire pirates to fight America's enemies. But you could say the modern era of contracting began on Jan. 20, 1981, when President Ronald Reagan was sworn into office.
On that day, Reagan delivered some of his most famous lines. "In this present crisis, government is not the solution to our problem; government is the problem," he said.
Reagan said one of the best ways to solve this problem was to turn over government jobs to private industry. Then, a Democratic president, Bill Clinton, embraced the same strategy, saying, "The era of big government is over."
And, actually, President Clinton did even more to contract out work than Reagan. For instance, Clinton made it easier for companies to get government contracts without competing. And then came President Bush, who said "big government is not the answer" and shattered all the previous records for contracting out.
Mowing The Grass
Bush has turned to industry based on a few assumptions that Clinton and Reagan also shared. The first: Businesses often know better than government how to do things right — and cheaper.
"I don't think the American people really care how we get it done," says Clay Johnson, one of Bush's oldest friends. He's the No. 2 man at the powerful Office of Management and Budget.
"The primary goal for what Congress does and what the executive branch does and what the American people want the federal government to do is to accomplish important things, do it professionally and cost-effectively to best serve the American people," Johnson says.
Since Bush took office, Johnson has helped shape the campaign to hire contractors. Johnson works in the Old Executive Office Building, right next to the White House. He says companies don't just perform better than federal employees sometimes; businesses can handle routine tasks so federal employees don't have to spend their time on them.
"We don't care who runs the computers; we don't care who does the building maintenance," he says. "The Department of Interior runs what is, in effect, the largest lawn mowing service in the world. Do we want federal employees to be mowing yards, or is it possible, just possible, that in certain situations, we might want private companies to be mowing the grass?"
Unanswered Questions
But investigators at the GAO say the Bush administration has gone way beyond hiring industry to trim bushes or process paychecks. They've hired more corporations than ever to help make decisions on behalf of the government.
Schinasi says it suddenly hit her one day a few years ago. She went to a top-level meeting at a military command post. She walked into the conference room, and she had no idea who anybody was. She says she stopped and went around the table, asking people who they worked for.
"There were several people who worked for the military command, but the majority of people sitting at the table worked for contractors," she says.
The GAO staff has investigated contracts all across the government. Schinasi says that in many cases, officials at the agencies hardly even supervise the corporations they've hired. So, she says, they can't answer the most basic questions about what the companies are doing — including how many contractors have done a good job or a bad job, and whether they have saved or wasted taxpayers' money.
She says that's what convinces her that contracting is out of control and that the new president needs to do something about it.
In the second part of this series, we'll examine controversial work that the Bush administration has contracted out.
Related NPR Stories