DeBarge Family Recounts Rocky Musical Journey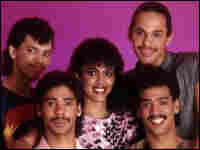 In the early '80s, the singing group, DeBarge, became one of the last big R&B acts of the original Motown label.
Mark, James, Randy and Eldra — plus their sister, Bunny — were the group's original line-up. But the hit makers were only a fraction of a large, and troubled, music-making family.
As the band was singing feel-good hits, they also were dealing with drug addiction and sexual abuse — and later, prison and HIV.
Farai Chideya talks with brother and sister, Chico and Bunny DeBarge, about their tumultuous lives and careers.
The story of the DeBarge family airs later this month on TV One's documentary series, Unsung.