Flaunt It With Jazz Flute
Hear Five Totally Tubular Songs Below
Courtesy of Dreamworks SKG
The flute is one of the oldest known instruments, but it gets little respect. Ever since Neanderthals held cave-dwelling jam sessions on perforated bear bones, humanoids have panned the instrument's airy magic. These days, anyone with a femur to pick would likely point to the many schmaltzy recordings of the concert flute or its woodwind cousins — the tin whistle, the pan flute, the ocarina or even the tonette. Luckily, the sheer virtuosic force of many jazz artists has lent a cool factor to the much-maligned instrument. Here are five of jazz's best flutists in action.
For more entries in NPR Music's weekly Take Five: A Weekly Jazz Sampler series, click here.
Flaunt It With Jazz Flute
Rahsaan Roland Kirk
Song: You Did It, You Did It
from We Free Kings
Vocalizing on the flute was a skill long before Jethro Tull frontman Ian Anderson rocked the silver tube, Ron Burgundy made it a lounge act or Tony Snow impressed the press corps with his flutessence. Sam Most is largely credited as the first jazz musician to hum into the instrument, but Rahsaan Roland Kirk did it with the greatest aplomb. Kirk was a master of numerous woodwinds, including those of his own devising: the nose flute, the black mystery pipes, the stritch, the manzello. Recorded three years before his full-blown flute album, I Talk With the Spirits, Kirk spills some lowdown blues shouting on the soulful "You Did It, You Did It."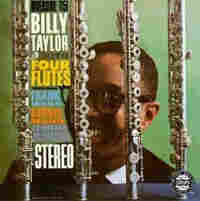 Billy Taylor
Song: Koolbongo
from Billy Taylor with Four Flutes
Take a quick glance at the all-too-literal cover photo for this album. Doesn't it look like Billy Taylor is incarcerated in some sort of minimum-security flute prison? This album was Taylor's debut for Riverside Records — long before he won virtually every major honor in music, arts, letters and broadcasting. In "Kool Bongo," a funky Mary Lou Williams original, no fewer than three great modern-era flutists (Jerome Richardson, Herbie Mann and Frank Wess) join Taylor in a song that sounds like it belongs in an Austin Powers movie. The deft, bluesy solo by Wess provides yet another reason why the former Count Basie sideman is largely responsible for the instrument's popularity in modern jazz.
Buddy Collette
Song: Jungle Pipe
from Man of Many Parts
The West Coast jazz scene counts two living legends of jazz flute: Bud Shank and Buddy Collette. Shank ended his addiction to jazz flute years ago, but Collette embraced the instrument until a stroke ended his playing career. Collette was the first African-American to play in a television studio band, but he was also a primary mover in Los Angeles' Central Avenue jazz scene, an early employer of Charles Mingus, the original flute player in Chico Hamilton's chamber-jazz quintet and the teacher of future woodwind players Eric Dolphy and Charles Lloyd. In "Jungle Pipe," guitarist Barney Kessel adds another pair of steady hands to Collette's exotic original.
Eric Dolphy
Song: Gazzelloni
from Out to Lunch
Eric Dolphy, a proponent of the 1960s avant-garde in jazz, named this song after his teacher, the Italian flutist Severino Gazzelloni. Dolphy was one of the most technically intimidating woodwind players: He executed solos with daunting proficiency, turning the boppish rhythmic patterns of Charlie Parker into outlandish birdlike animal sounds. He had a penchant for the 20th-century classical music of composers like Edgar Varese, as well as the more experimental and charismatic jazz tendencies of associates Ornette Coleman, John Coltrane and Charles Mingus. Out to Lunch! was Dolphy's only studio date for Blue Note Records, and it's a certifiable masterpiece. Dolphy's brief music career ended with his untimely death four months after this recording.
Yusef Lateef
Song: Bamboo Flute Blues
from Psychicemotus
Psychicemotus is the standout studio recording from Yusef Lateef's tenure at Impulse Records. It has a mystically cool name and features even more flute than its 1966 follow-up, The Golden Flute. Lateef imported Eastern wood flutes from India, China and Japan into his modal-based jazz improvisations before this brand of music nosedived into a pool of vapid, New Age stoner chic. "Bamboo Flute Blues" was recently remixed by Kid Koala, but the original features Lateef blowing his patented "autophysiopsychic" music over New Orleans drummer James Black's funereal taps. The author of Yusef Lateef's Flute Book of the Blues is overdue for his official recognition as a world-music pioneer and jazz master.