'Cadillac Records,' Staying True To The Tunes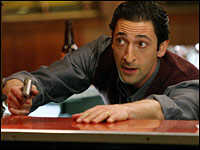 Cadillac Records
Director: Darnell Martin
Genre: Street-level musical
Running Time: 109 minutes
Rated R: Violence, strong language and sexual situations.
Watch Clips
'Contract Signing'
Media no longer available
'Little Walter'
Media no longer available
'Chuck Loses A Gig'
Media no longer available
An exuberant fictionalization of the Chess Records story, Cadillac Records plays a gritty counterpoint to Dreamgirls. Both movies are fairy tales, but Cadillac Records is far truer to one essential thing: the music.
After a clunky opening montage, writer-director Darnell Martin introduces her narrator, blues songwriter Willie Dixon (Cedric the Entertainer), and two central characters: Chicago entrepreneur Leonard Chess (Adrien Brody) and Mississippi sharecropper Muddy Waters (Jeffrey Wright).
Inspired by an encounter with folklorist Alan Lomax, Waters heads north. The singer-guitarist moves in with nurturing Geneva Wade (Gabrielle Union), and adopts teenage harmonica genius Little Walter (Columbus Short). Then Waters' band crashes Chess' new nightclub, leading to a contract with the Polish-Jewish blues aficionado's even newer business, a record company.
Chess opens a Southside studio and — in a scene familiar from nearly every birth-of-rock movie — instructs a stuffy engineer not to worry that the music's too noisy. Both Waters and Little Walter score hits, and more musicians arrive. Most notable are the growly, hulking Howlin' Wolf, blues-gone-pop belter Etta James and country-tinged rock-and-roller Chuck Berry.
The course of musical revolution does not run smooth, of course. Some musicians are sidetracked by alcohol and heroin, racist cops are always a threat, and pop-music fashions change quickly.
There's also the matter of money: Paternalistic to a fault, Chess gives his performers Cadillacs and houses, but doesn't necessarily pay the royalties they've earned.
Martin, who's worked mostly in TV, doesn't attempt a historical viewpoint. Everything is anecdotal, melodramatic and smushed together: Fights break out, guns go off, musicians are arrested, men pull from their wives' arms to rush to other women, and each emotional crescendo plays to an audience of prominent witnesses.
This delirious approach almost works, in part because of winning performances. If many of the characters are walking stereotypes, the actors still personalize the roles, often with wry humor. Particularly entertaining are Eamonn Walker's ominous yet charming Howlin' Wolf, Short's cocky and doomed Little Walter and Mos Def's Chuck Berry, a musical alchemist who duckwalks through the cultural ferment with an ironic twinkle.
And Beyoncé Knowles is much more vivid as the mercurial James than as Dreamgirls' Diana Ross surrogate.
The actors performed their own vocals, and while the results don't upstage the originals, they're more than respectable. Of course, it's hard to flop with stompers like "My Babe," "Smokestack Lightning" or "Maybellene." (Unless you're, say, Pat Boone.)
As history, Cadillac Records is wobblier. Many of the script's inventions and omissions serve the dramatic structure, but others seem designed for legal or ideological reasons. Missing entirely, for example, is Phil Chess, Leonard's brother and the label's co-owner. (He's still alive, unlike his sibling, and thus capable of contacting a lawyer.)
Some of the film's wildest leaps are designed to support a thesis stated in the opening voice-over: that rock 'n' roll is essentially a white appropriation of the blues. Thus we're told that the Beach Boys copied "Surfin' USA" from "Sweet Little 16" — but not that Berry swiped "Maybellene" from "Ida Red," a '30s country hit.
The movie also suggests that Waters first played the U.K. in 1967, after the bloodless Brits finally got hip to the blues, when in fact he originally performed there in 1958.
In short, the post-war melding of blues, country, pop and other styles was a lot more complicated than Cadillac Records allows. But the movie does capture something of the then-new music's spirit, and that's enough to give it a shot at the rock-flick Top 10.
Web Resources
Correction
June 19, 2009
An earlier version of this story gave the wrong title for the Chuck Berry song appropriated by the Beach Boys. It was "Sweet Little Sixteen" that was adapted into "Surfin' USA," not "Maybellene."