MusicianCorps May Strike Right Tone For Obama
MusicianCorps May Strike Right Tone For Obama
Courtesy Center for American Progress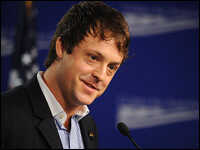 Courtesy Center for American Progress
Hear Kiff Gallagher's Music
Kiff Gallagher's 'How It Feels'
President-elect Barack Obama has said he believes the arts are good for people. During his campaign, one of his ideas was to create an Artist Corps — a kind of Peace Corps for artists who would work in low-income schools and communities.
But what would this actually look like?
There's already a model being developed for musicians called MusicianCorps. Kiff Gallagher's idea would be similar to AmeriCorps — in exchange for a year or two of service teaching in schools and after-school programs, musicians would get health care and a living stipend. Gallagher has the attention of Obama's transition team.
He also has the attention of private industry — the Hewlett Foundation gave MusicianCorps a $500,000 grant for a pilot program in the San Francisco Bay Area.
The Man Behind The Idea
Gallagher, who grew up singing and playing piano, left a successful career as president of a socially conscious business association about five years ago to work on his music full time. He started performing at clubs around San Francisco and caught the attention of folks in the music industry.
"Some major labels were calling me because they dug my record, which was flattering and exciting," he said.
But Gallagher never got signed. So he decided to combine his background in music with his experience in public service.
When he was in his 20s, Gallagher worked in Washington, D.C. — first in Sen. Joe Biden's press office, then on Bill Clinton's campaign. He also helped create AmeriCorps, which now has about 75,000 members.
"I mean, nobody's going to get rich doing this, but the vision is that there's about 50,000 young people graduating with music performance degrees, and there's a lot of schools and after-school programs in communities that want to bring music," Gallagher says.
Gallagher says he's talking to everyone about MusicianCorps.
During the campaign, he served on Obama's National Arts Policy Committee. His idea has been endorsed by prominent economists and educators — even former Arkansas Gov. Mike Huckabee. The Aspen Institute named MusicianCorps one of the 10 nonprofit policy proposals that would strengthen U.S. communities.
The Pros And Cons Of MusicianCorps
Mike Blakeslee, who heads the National Association for Music Education, see pros and cons to the MusicianCorps idea. He says there is a shortage of music teachers primarily in the low-income school districts that MusicianCorps would target. But he also says it takes years of on-the-job training to become an effective music teacher.
For now, the MusicianCorps program calls for a summer training program. And Blakeslee thinks that may not be enough.
"Because in addition to being able to navigate the bureaucracy of schools and deal with discipline issues, lack of facilities — a music teacher has to be a good musician, too," Blakeslee says.
Iris Tate, who has been teaching music in D.C. public schools for 23 years, says there is a big difference between affluent and low-income neighborhoods. She has two degrees in music education and has worked in both systems.
She says she likes the MusicianCorps idea, but would like the organizers to talk to some veterans of the classroom.
"It might scare them when they hear some of the horror stories," Tate says.
Tate is now teaching at Leckie Elementary School, an inner-city school where more than half of the children are eligible for free lunches. She says teachers in this setting need to have "patience and love."
"The thing is understanding children from the inner city. They come from various backgrounds, and sometimes they don't have the love, attention that they need," she says. "And they'll do all kinds of things to get your attention focused on them."
Making The Concept A Reality
Gallagher is committed to making his MusicianCorps concept a reality. For about two years, he's been meeting with educators, economists, public officials and foundations.
"I hope that MusicianCorps can create new opportunities for musicians to both be creative and true to their craft over a lifetime, but also to contribute to society in a way that goes beyond traditional commercial entertainment," he says.
Web Resources