Holiday Gifts Good Enough To Eat
Hear an interview with Nicole Spiridakis
Nicole Spiridakis for NPR
Holiday Must-Haves
Have you gotten a really good — or really bad — edible gift? Do you have special recipes and food traditions for Hanukkah, Christmas and other holiday celebrations? Share your best holiday food stories with Kitchen Window and the NPR Community here.
About The Author
Nicole Spiridakis lives in San Francisco and writes about food, travel and her native state on her cooking blog, cucinanicolina.com. When she's not in her (tiny) kitchen working on a new dish, she writes a column about apartment living for the San Francisco Chronicle's Home and Garden section.
I always spend a lot of time in my kitchen, but this time of year, I'm pretty well ensconced there for the duration. I'm roasting my usual fall staples of cauliflower and Brussels sprouts, of course. However, the real reason I cheerfully give over Sunday afternoons to creaming butter and melting sugar is because the holidays are coming, and I am powerless against the urge to bake.
After the Thanksgiving crumbs have been swept away and I finally feel ready to start thinking about food again, I plan my homemade holiday gift-giving. I'm not gifted artistically, and unfortunately am hopeless at knitting and sewing. But what I can — and do — provide is an assortment of edible treats for my loved ones near and far.
This year in particular, making holiday gifts from scratch lends not only a personal touch but an economical one. With the markets doing a very un-festive bait-and-switch, many of us are watching our pennies ever more carefully. Making the relatively minor investment in a few extra bags of sugar, flour and sea salt can do wonders for the wallet, and it's infinitely satisfying to transform those humble ingredients into homey, delicious goodies that will be truly appreciated by their recipients.
There's something old-fashioned — in a good way — about going the homemade route. And for the cook, it's a simple and gratifying pleasure.
I've been distributing homemade treats to friends and relatives for years. One time, I planned far in advance (a few months, at least) and made a version of limoncello, an Italian lemon-infused liqueur, grating lemon rind and letting it steep in a large bottle of vodka for weeks. I later decanted the delicious citrus-y alcohol into smaller bottles to be tucked into gift bags with instructions to serve it icy cold.
Another year, I filled jars with dried beans and a recipe for bean soup, with strict instructions that it be prepared during January's post-holiday slump. I don't know if anyone ever made the soup, but all those legumes looked so pretty layered in their shining glass containers. I've baked countless cookies — sugar, ginger, butter and more — and stacked and tied them with ribbons.
I was inspired to take the homemade route by my mother. When I was growing up, I watched her fill gift bags with loaves of her traditional holiday poppy seed bread, wrapped in crackling red cellophane, and take them to our neighbors. It was like bringing a little bit of her kitchen into another's. I love that idea.
I've sent a dozen cupcakes via overnight mail, carefully packed up jars of homemade jam and whipped up batches of gluten-free dog biscuits for special pups with dietary restrictions. My baking is my way of saying thanks, happy birthday or happy holidays. The homemade gift is a gift of love.
Edible gifts can be specially tailored for the giftee. For my dad, who is on a low-cholesterol diet, for example, I pore over recipes for healthful treats to cater to his sweet tooth. (Last year, it was dried-fruit-and-nut cookies bound together with just a little orange juice, and dusted in powdered sugar). For my grandma, I always bake mini loaves of lemon tea bread, because it's her favorite of all the recipes in my small sweets arsenal.
Last fall, I made and canned a big batch of applesauce, so jars of that made it into the bags and boxes I gave away around the holidays. At this point, of course, it's too late to start preserving summer and fall fruit, but it's something to keep in mind for next year — and preserved lemons are always lovely.
One of my first criteria when deciding what to make for an edible gift is how far it may have to travel. In addition to filling pretty tins with cookies for my dad (whom I see in person), I fill boxes to send across the country to various far-flung friends, and for them I choose less perishable, sturdier items such as citrus-infused sea salt or a loaf of poppy seed bread. I'll also make things that keep well — gingerbread, for example, can be baked, frozen and made available on a moment's notice, as can a variety of cookies.
For those within shouting distance, I might make a batch of truffles, which should be consumed fairly quickly, or even a special cake, if I'm feeling ambitious and have the time.
It's nice to give books, of course, or a precisely chosen necklace, but it's even more personal to make something with your own hands and ingenuity. In a harried world, taking a few hours out of the rush and stress of life to create from scratch is priceless.
Plus, an afternoon spent firmly planted in my little kitchen, the classical music pealing away on the radio in the other room, and the apartment filling up with good smells is a present I give myself.
Poppy Seed Bread
Nicole Spiridakis for NPR
My mom makes this every year at Christmas, and I've started carrying on her tradition. It's simple, sturdy and delicious, perfect for tucking into those holiday gift boxes that will soon make their way across the country.
Makes 1 regular loaf or 3 mini loaves
1 cup sugar
2 large eggs
1 cup evaporated milk
1 cup cooking oil
2 cups all-purpose flour
2 teaspoons baking powder
1/4 teaspoon salt
1 teaspoon vanilla extract
1/4 cup poppy seeds
Preheat oven to 375 degrees.
Grease with vegetable oil a 9-by-5-inch loaf pan or 3 mini loaf pans (3 1/4-by-2 1/4).
Combine sugar, eggs, evaporated milk and cooking oil. Mix on medium speed of electric mixer until well-blended.
Sift together flour, baking powder and salt. Add flour mixture to egg mixture. Mix a few minutes on low speed until smooth and thick. Add vanilla and poppy seeds. Mix until smooth.
Pour batter into prepared pan(s) and bake about an hour, or until a tester inserted in center comes out clean.
Remove from oven and let cool 15 minutes in pan before turning over and removing the loaves. Wrapped tightly in foil, the loaves keep for one week or can be frozen for up to three months.
Preserved Lemons
Nicole Spiridakis for NPR
Preserved lemons are common in North African cooking and add a certain zing to dishes such as vegetable tagines, lentils with spinach or couscous salads. Organic lemons are best, since you'll be eating the skin.
Makes 2 pint jars
8 to 10 organic lemons, scrubbed
1/2 cup kosher salt, more if needed
Fresh lemon juice, if needed
Sterilize pint canning jars by placing in a pot of boiling water for 15 minutes. Remove carefully with tongs before filling.
Place 2 tablespoons of salt in the bottom of a sterilized jar.
Cut off any protruding stems from the lemons, and cut 1/4 inch off the tip of each lemon. Cut each lemon into 8 wedges and discard seeds. Toss with kosher salt in a bowl.
Pack the lemon slices in the jar, pushing them down so juice is extracted and rises to the top of the jar. Fill the jar with the lemons and add enough lemon juice to cover lemons. Top with a few tablespoons of salt. Screw on lid. Let stand at room temperature, shaking jar gently once a day, for five days.
Refrigerate and let sit, again turning upside down occasionally, for at least 3 weeks. To use, remove lemon slices from jar and rinse thoroughly in water to remove salt.
Jars can be stored in refrigerator for up to 6 months.
Caramels
Nicole Spiridakis for NPR
Candy is ideal for sending in gift packages. And who doesn't like caramels? This recipe is easily doubled.
Makes 1 dozen caramels
1 cup heavy cream
3 tablespoons butter, cut into three one-tablespoon pieces
1 teaspoon fleur de sel (a type of sea salt sold at most health food stores and specialty food markets)
1 1/2 cups sugar
1/4 cup water
Special equipment: parchment paper*, candy thermometer
Line bottom and sides of an 8-inch-square baking pan with parchment paper, then lightly oil parchment.
Bring cream, butter and fleur de sel to a boil in a small saucepan, then remove from heat and set aside.
Boil sugar and water in a 3- to 4-quart heavy saucepan, stirring until sugar is dissolved. Boil, without stirring but gently swirling pan, until mixture is a light golden caramel.
Carefully stir in cream mixture (mixture will bubble up) and simmer, stirring frequently, until caramel registers 248 degrees on the candy thermometer, 10 to 15 minutes. Pour into baking pan and cool for at least 2 hours.
Cut into 1-inch pieces, then wrap each piece in a 4-inch square of wax paper, twisting the two ends to close. Caramels will keep for up to two weeks in an airtight container.
* Parchment paper or wax paper is a must for wrapping the caramels; they will stick to anything else.
Chocolate Truffles
Nicole Spiridakis for NPR
The lovely thing about making truffles is that you can take a simple recipe and dress it up with chopped walnuts or hazelnuts or dried fruit, such as dried cranberries. Of course, the pure chocolate version is equally delicious, with either a dusting of cocoa or a chocolate coating.
Makes 1 dozen truffles
1 1/4 cups heavy whipping cream
9 ounces high-quality bittersweet chocolate (70 percent cocoa), chopped, divided
Chocolate Coating (recipe below) or unsweetened cocoa powder, optional
Bring cream to simmer in small heavy saucepan. Remove from heat and let cool about 10 minutes.
Meanwhile, stir 7 ounces chocolate in metal bowl over saucepan of simmering water until smooth. Remove from heat. Add remaining 2 ounces chocolate and stir until smooth. Stir in cream. Chill truffle base until firm enough to roll, about 3 hours.
Line rimmed baking sheet with waxed paper. Roll 2 teaspoons truffle base between fingertips into ball. Transfer to prepared sheet. Repeat with remaining truffle base. Chill until firm, about 1 hour.
Chilled truffles can then be rolled in unsweetened cocoa powder or the Chocolate Coating.
Chocolate Coating
8 ounces high-quality bittersweet chocolate (70 percent cocoa), chopped
Line another rimmed baking sheet with wax paper. Stir chocolate in metal bowl over saucepan of simmering water just until melted. Remove from heat and let cool slightly in a shallow bowl.
Take a chilled truffle and lightly roll it in the melted chocolate. Place on prepared sheet. Repeat with remaining melted chocolate and truffles, rewarming chocolate if necessary.
Chill finished truffles until firm, about 1 hour. Truffles can be made 1 week ahead and stored in the refrigerator in an airtight container. Let stand at room temperature 1 hour before serving.
Flavored Salt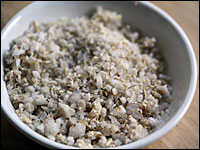 Nicole Spiridakis for NPR
Lemon zest and herbs make a uniquely flavored salt that can be sprinkled over roasted vegetables, fish and other meats, or salads. The basic recipe can be adapted for herbs — rosemary, for example, or lavender — and other fruits, such as oranges or limes. Try substituting the flavored salt in any savory recipe that calls for sea salt.
Makes 8 cups
Zest from 3 lemons
1 3-pound box kosher salt (or about 8 cups flaky sea salt)
2 bunches fresh rosemary, optional
Preheat oven to 200 degrees.
Crumble the lemon zest — with rosemary, if using — in a large bowl. Add the salt and stir well to combine. Spread in a large baking pan and bake for about 15 minutes. Remove from oven and let cool and stand overnight.
Fill jars or airtight containers with salt and seal tightly. Ready to use immediately.