Cajun Carols: New Orleans Christmas Jazz
Courtesy of Putumayo World Music
In New Orleans, December brings only faux snow, so Papa Noel packs his presents on a pirogue (canoe) pulled by alligators. Feux de Joie bonfires are lit along the Mississippi River to light his way to the bayous. Papa might not have a stereo on board, but if he does, you might hear a few of these Cajun carols around the Crescent City area.
For more entries in NPR Music's weekly Take Five: A Weekly Jazz Sampler series, click here.
Cajun Carols: New Orleans Christmas Jazz
New Birth Brass Band
Song: Santa's Second Line
from New Orleans Christmas
Tired of jingling bells? Are bland department-store Christmas-music mixes driving you nuts? Try a shout-out to Santa Claus with a second-line parade. The New Birth Brass Band mixes a lot of traditional New Orleans jazz with a little bit of funk in this lively march-along.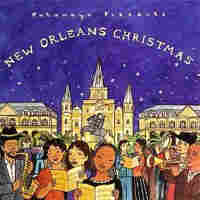 Dukes of Dixieland
Song: Holiday Time in New Orleans
from Putumayo Presents: New Orleans Christmas
These longtime New Orleans jazz ambassadors swing through the distinct holiday sounds of Southern Louisiana. This compilation features many New Orleans notables, including Ellis Marsalis, Heritage Hall Jazz Band, Banu Gibson and Dukes of Dixieland.
Banu Gibson
Song: Christmas on the Bayou
from Zat You, Santa Claus?
A different kind of tinsel decorates some of the trees in the bayous this season, as Banu Gibson illustrates: "The Spanish moss is shimmerin' in the season's festive-colored lights." Her voice hearkens back to musical styles of the 1920s in this celebration of a Louisiana-style holiday.
Louis Armstrong
Song: Christmas in New Orleans
from Traditional Jazz Christmas
Louis Armstrong sings of things that give New Orleans a special Christmas spirit. Wintry-white cotton fields stand in for snow. Where's Santa? Look for the man in the red suit, strutting with a brass band down Basin Street. This compilation also features traditional holiday songs performed by the likes of Ramsey Lewis, Lionel Hampton and Mel Torme.
Heritage Hall
Song: Silver Bells
from Christmas with the Heritage Hall Jazz Band
Retire your old Bing Crosby version of this holiday classic for a moment — yes, set aside Alvin and the Chipmunks, too — and listen to the sounds of Christmastime, Crescent City-style. After the requisite jingling bells shake out an intro, the song turns into a swinging traditional jazz tune. A little bit of trombone is enough to the season bright.