Mining For Diamonds In The Canadian Rough
Mining For Diamonds In The Canadian Rough
Diavik Diamond Mines Inc.
Diavik Diamond Mines Inc.
Diavik Diamond Mines Inc.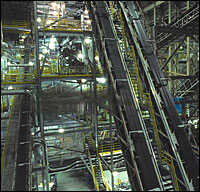 Diavik Diamond Mines Inc.
Margo Yacheshyn/UBC Okanagan
Nearly two decades ago, a dogged geologist named Charles Fipke was practically down to his last nickel. He and a fellow prospector, Stewart Blusson, had been crisscrossing the vast frozen hinterland of Canada's Northwest Territories for more than 10 years, looking for one of the world's most precious gems: diamonds.
"They were living on beans and bacon," says Mike Vaydik, with the Northwest Territories and Nunavut Chamber of Mines. He says Fipke borrowed money for his barebones operation.
"They didn't have helicopter support. His camps were known to be hardship camps, and a lot of people who worked there were his family and friends in the business. Nobody else would put up with it."
Then finally, in 1991, after exhausting his money and goodwill, Fipke scooped up a sample of minerals known to accompany diamonds. His long-held hunch and efforts had paid off — there were diamonds in the area.
Fipke's discovery kicked off the biggest staking rush ever seen in North America, says Yellowknife Mayor Gordon Van Tighem.
"Basically all of the Northwest Territories and Nunavut was staked. There were helicopters going all over the place. I was a banker at the time. There were people trying to finance more and more helicopters and airplanes and things," he says.
Stakes literally had to be hammered into the frozen ground. Van Tighem says lumber yards ran out of wood because of the number of stakes needed.
Canada's First Diamond Mine
The first diamond mine in Canada opened in 1998, nearly eight years after Fipke's discovery. In the span of just a decade, Canada has become the third largest producer of diamonds by value after Botswana and Russia. The country's new-found diamonds have attracted the likes of industry giants such as De Beers and Tiffany & Co.
There are now three mines open in the Northwest Territories and more are being planned. They are a lucrative business, says Ryan Silke, an analyst with the Chamber of Mines in Yellowknife.
"In 2007 alone, the three diamond mines in the territories produced diamonds worth $1.4 billion," Silke says. "That's about 17 million carats of diamonds — that was just last year."
Among the richest diamond pipes are at Diavik Diamond Mine, which is owned by the Rio Tinto mining group, and Ekati, which is owned by the Australian mining company BHP Billiton. They are both located in the Lac de Gras region, about 120 miles south of the Arctic Circle. The third mine in the Northwest Territories is the Snap Lake Diamond Mine, which is owned by De Beers.
Remote, Frozen Conditions
The sparsely populated Northwest Territories cover nearly half a million miles of land. Much of the territory is tundra — remote and barren and above the tree line.
"Minus 40 [degrees Celsius] would be pretty common up here. We do get minus 50," says Tom Hoefer, the communications and external affairs manager at Diavik. "The saving grace up here generally is if it's minus 50 you don't have a wind, but minus 50 is still minus 50 — it's cold."
Those extreme temperatures and the sheer remoteness of the area have an impact on any potential mining. Before the diamond mines opened, there was no infrastructure, no communications, no electricity and no airport in the Lac de Gras region. Every year, a 200-mile ice highway — the width of a football field — is built over frozen lakes from the city of Yellowknife to the mines.
"We have two months of the year to haul in all of the materials that you see here to build these mines, as well as all of the materials, supplies, equipment and that that we need to operate these mines every year," Hoefer says.
Diavik Diamond Mine, which opened in 2003, also had to drain a lake and then build a 2.5-mile dike in order to create an open-pit mine. The Canadian government has stringent environmental controls and required precise details about how the mining will affect the wildlife and the countryside. Diamond companies also have to show how they're going to close their mines safely even before they're open.
Smoothing Over Gold Rush Woes
Diamond-mining companies also carried out separate negotiations with no fewer than five native groups who live on the land. There are bad feelings among some of the groups stemming from six decades of gold mining in the region.
Chief Fred Sangris, with the Yellowknife Dene tribe, says the gold mining harmed the lakes and land, and did little to better the lives of the native people. Sangris said that became an issue when diamond officials came to talk to the tribal elders.
"There was not a lot of trust," Sangris says. "Are they fooling us again, are they taking us for a ride? The elders told us very clearly — this will not happen again."
The diamond mines have guaranteed extended-education programs, apprenticeships and contracts for providing services to the mines. Sangris says he would like to see more natives in management at the mine.
Digging For Diamonds
Nowadays, huge earth movers — some the size of a two-story house — slowly wind down 800 feet to the bottom of the diamond "pipes" at the Diavik mine. They scoop up thousands of tons of granite and kimberlite, a volcanic rock where diamonds can be found.
Once the granite and kimberlite is out of the frozen ground, it's taken to a processing plant nearby and run through a series of crushers in an effort to separate it from the diamonds.
"Basically, what we want to do is first to break it down to a size that's between 1 millimeter and 30 millimeters — so sort of sand size up to the golf ball size," says Hoefer. He says a 30-millimeter diamond rough is about 180 carats.
Once the kimberlite is broken up, separated diamonds zoom by on a series of conveyor belts. Security is tight, and the machines are all automated. No one is allowed to pick up anything off the floor. Parts of the 11-story processing building are padlocked or out of bounds.
Keeping The Work On Canadian Soil
After the diamonds are separated, they're shipped to Yellowknife, where they are cleaned and sorted by size and grade. Canadian officials weigh and inspect the diamonds before they are sent to cities like London and Antwerp. Most of the rough stones are then sent on to places like India for cutting and polishing. About 80 percent of the world's diamonds are cut and polished in India, which has the infrastructure and can do it at a low cost.
However, some of the Canadian diamonds are shipped back to Canada after overseas processing. The government of Canada's Northwest Territories has mandated that about 10 percent of the diamonds mined in the territories must be cut and polished there. So today, at the end of the airport runway in Yellowknife is Diamond Row — a series of buildings housing artisans who work for jewelers like Tiffany & Co. to turn the rough stones into sparkling gems.
"Our original vision was that we would cut and polish the diamonds in the north, that we would train Northerners to do all the cutting and polishing to address some of our unemployment issues," says Bob McLeod, the minister of Industry, Tourism and Investment for the government of the Northwest Territories. "But we're finding that the Northerners, we've trained them, but they have a tendency to move on."
Many of the Northerners — a term for people from the Northwest Territories — make better money working in the mines. When Canada's diamond industry started up, there was — and still is — a shortage of workers with that expertise. So the cutting and polishing firms bring in many skilled diamond cutters and polishers from overseas.
"We've got people here from Tanzania, Mauritius, Armenia, Canada, India," says Chris Ward, the director of Laurelton Diamonds, which is owned by Tiffany & Co. "We've got 10 nationalities, or 10 countries of birth here. Most of those have now become Canadian citizens."
A Costly Endeavor
Ward says Tiffany & Co. came to Yellowknife five years ago to start its first cutting and polishing operation. It has similar plants in places such as China, Botswana and South Africa.
The Yellowknife factory is brightly lit and about two dozen men and women sit at long benches, heads down, shaping and polishing the rough diamonds and putting facets on the stone to give it brilliance. Ward says a rough diamond will pass through 10 different hands — each person has his or her own specialty.
Still, it costs about 10 times as much to mine and manufacture the diamonds in Canada than in countries like India, Vietnam or China.
"You have to be very creative in order to survive because the rough [diamond] prices are the same for everyone," says Robert Bies, the director of Arslanian Cutting Works, a company that cuts and polishes diamonds. "So in order for us to survive, we have to figure out how we can get premiums on our polished. Because we know our manufacturing costs are higher here than in India."
Bies says that because of the high cost, Arslanian won't work on any rough stone less than a carat.
"One thing we wanted to do was make it value added," says Jim Myres, an associate director with the Northwest Territories' Department of Industry, Tourism, and Investment. "So if this was a government-certified diamond, the premier puts his signature on a certificate, that's going to add value at the end of the chain."
Microscopic images of polar bears and maple leaves are also laser-branded onto every polished gem, and each diamond is given a serial number and a government certificate stating it was mined, cut and polished in Canada.
Blood-Free Diamonds
Canada is also capitalizing on the conflict-free status of its diamonds: They are not "blood" diamonds like the ones used to finance wars and other conflicts in Africa, says industry and tourism minister McLeod.
"We've taken advantage of that, whereby we promote them as Canadian diamonds and our government issues certificates to attest to the fact that these diamonds are mined, cut and polished in Canada and the Northwest Territories, and there's no possibility they're conflict diamonds in any way, shape or form."
"Canada just seems to be a good selling point for diamonds." says Bies. "We have good labor laws. We're not hiring children to work in our diamond factories. People know when they buy a Canadian diamond they know it's not a conflict diamond."
Bies says he would like to see better marketing for the diamonds. But at this point, he says, his company is already having trouble keeping up with the demand from its largest client base — Canadians.
Related NPR Stories