Conservatory Enjoys 'That New Piano Smell'
Conservatory Enjoys 'That New Piano Smell'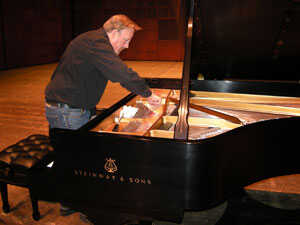 You likely buy more than 100 pieces of paper at a time, and maybe even more than 100 flowering plants to fill your garden. But here's something you don't often think of in terms of hundreds: pianos.
The University of Cincinnati's College-Conservatory of Music is buying 165 Steinway pianos, the largest sale the company has ever made. The pianos, which cost $4.1 million after a $2 million discount, began arriving last month. It took three days to unload 27 of them, including the famed Steinway Concert Grand Model D, a 9-foot-long piano with a black lacquered finish that takes a year to build and sells for more than $100,000.
Maryanne Zeleznik reports for member station WVXU.
Web Resources