The 10 Best Mixtapes Of The Year
The word "mixtape" — the hip-hop equivalent to the bootleg concert tape — now refers to mixes of songs burned to CD or offered as a digital download, sold on street corners and swapped on message boards. They represent hip-hop artists taking back the power over their music from label politics, mainstream media and the tyranny of copyright law (and FCC language restrictions). In this purely democratic world unsigned rappers build a fan base, past-their-prime artists re-connect with an audience, and major-label commodities show their adventurous side on records that overprotective label reps would never authorize and commercial radio could never pick up. Here are some of this year's finest tapes.
Click here for more entries in the Best CDs of 2008 series.
Advisory: Explicit language and subject matter not suitable for all ages.
The 10 Best Mixtapes Of The Year
1. Lil Boosie
Song: Dirty World [explicit]
from Da Beginning
Though he's best known nationally as the boisterous (some might say annoying) rasp on a string of radio hits, Boosie moonlights as an of-the-people rapper in the Tupac mold. Set to the soulful sounds of producer BJ, Da Beginning may be his most heartfelt (non-)record to date, a panoramic view of his Baton Rouge community and a weirdly depressive personality: "The only thing that make me happy / is rocking a show and being a daddy." It turns out that Boosie¹s whine is more suited for pain and passion than partying. Note: This song contains explicit language.
Goodbye America [explicit]
2. Playboy Tre and DJ Swatts
Song: Goodbye America [explicit]
from Goodbye America
Relatively unknown (and heavily under-publicized) Atlanta emcee Playboy Tre blurs the line between the proper studio album and the mixtape on this loose concept tape about the rapper's quest to become an ex-pat. In a molasses-thick Southern drawl, Tre balances playful flows with dead-serious social and personal commentary, whether he's arguing with racist airport security or penning a Dear John letter to his neighborhood in "Set Me Free." Note: This song contains explicit language.
3. 50 Cent and DJ Whoo Kid
Song: Thanks A Lot [explicit]
from Sincerely Yours, Southside
Arguably the first major star to break on the strength of artist-driven mixtapes, 50 Cent has been in the midst of a creative and commercial downturn, seeming mechanical and self-serious on his official recordings. Fortunately, his recent street tapes -- this, as well as the memorable G-Unit outings Elephant in the Sand and Return of the Body Snatchers -- find him sounding fresh as ever, letting his ego run rampant in a hilarious way. Here, he takes full advantage of the form by rapping over old-school soul and disco classics that would cost a small fortune for an actual label to clear officially. Anita Ward¹s "Ring My Bell" is flipped into the self-aggrandizing "My Name Rings Bells," while Stevie Wonder's "That Girl" becomes a vulgar romp. Whoo Kid lets the tracks ride out for long enough after the rhymes that Sincerely Yours doubles as a great standalone soul mixtape. Note: This song contains explicit language.
The Opening Title Sequence [explicit]
4. Wale and DJ Nick Catchdubs
Song: The Opening Title Sequence [explicit]
from The Mixtape About Nothing
D.C. newcomer Wale made the strangest tape of the year in tribute to the monolithic '90s sitcom Seinfeld. Opening with a go-go interpolation of the show's ubiquitous slap bass, Wale turns a goofy theme into a surprisingly smart and personal tape. He laments the faults of the rap industry in a string of Seinfeldian What's the deal with... set-ups in "The Opening Title Sequence," and unfolds a critique of actor Michael Richards' highly publicized racial diatribe into a treatise on self-hatred in the black community. Even Julia Louis-Dreyfus calls in to record a personal drop: "My kids are gonna think I'm so cool." Note: This song contains explicit language.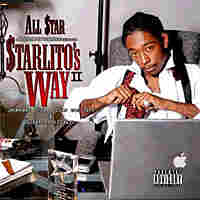 5. All Star
Song: Life Story [explicit]
from Starlito's Way 2
All Star spent recent years riding the Cash Money pine while his labelmate Lil Wayne became the biggest rapper in the world. Rather than wait around for his label to make him a star, the self-proclaimed Cashville Prince channeled his frustrations into this overstuffed double-disc set. Note: This song contains explicit language.
6. Peedi Crakk and DJ E-Stacks
Song: More Towels [explicit]
from Crakk Muzik
Since his unceremonious split from one-time advisor and employer and employer Jay-Z whom he now not-so-affectionately addresses as "Camel Face"), Philadelphia eccentric Peedi Crakk has emerged as one of the most consistently inventive mixtape rappers, stretching syllables over twisted old-school loops. Crakk Muzik's highlight, "More Towels," finds him rapping about dirty hotel-room linens to a half-speed interpretation of the Lyn Collins/Rob Base "It Takes Two" break. It's a bit like attending a Œ80s park jam on angel dust, and then not having any clean towels afterwards. Note: This song contains explicit language.
Belly of the Beast [explicit]
7. Killer Mike
Song: Belly of the Beast [explicit]
from The Sunday Morning Massacre(s)
Though the Internet has been a clearinghouse for mixtapes for most of the decade, it wasn't until recently that the model began to catch up to the medium. This year, everyone from up-and-comers like Charles Hamilton to veterans like Freeway have toyed with the idea of serializing their recordings for regular online consumption, effectively building mixtapes in real time. Former Outkast protégé Killer Mike, a self-proclaimed ghetto gospel preacher, was the most successful in this approach. Revolving around biblical themes, his short-lived SMM series saw him continue to establish himself as this generation's Ice Cube (except without all the fans, inexplicably) and cut what was likely the first rap collaboration with Charles Manson. Note: This song contains explicit language.
8. The Re-Up Gang and DJ Drama
Song: Emotionless [explicit]
from We Got It For Cheap Vol. 3
The previous volumes of the Got It for Cheap series earned the Re-Up quartet -- Virginia siblings The Clipse and Philly's Sandman and Ab Liva -- a ravenous Internet following, thanks to their obsessive and literate raps and an impeccable ear for borrowing other people's beats. Vol. 3 doesn't quite reach the heights that its predecessors did, but it still offers up a few brilliant moments of introspection and wordplay. On the Jim Jones-jacking "Emotionless," Clipse's Malice is drowning in misery ("The older I get, the colder my heart grows / I'm surprised I can smile with such sorrow"), while Liva sticks to tongue-twisters: "You can't test my pen / I'll be your stencil, then / Tap dance all over these instrumentals with penmanship." Note: This song contains explicit language.
9. Atmosphere
Song: Crewed Up [explicit]
from Strictly Leakage
The Minnesota duo Atmosphere -- producer Ant and rapper Slug -- has carved out a specialized emo-rap niche, with a following that stretches into indie-rock circles. But at their core, Slug and Ant are still hip-hop traditionalists. Strictly Leakage finds them getting back to their roots, with Slug spitting aggressive punchlines over repurposed Big Daddy Kane beats and lots of horns. It even features a welcome cameo from long-absent '90s wordsmith YZ. It's a total for-the-love-of-hip-hop geekfest, and Slug has never sounded happier. Note: This song contains explicit language.
Cops Keep Firing [explicit]
10. Nas and DJ Green Lantern
Song: Cops Keep Firing [explicit]
from The N----- Tape
When Def Jam unceremoniously stripped Nas' new album of its controversial one-word title, he did what any self-respecting artist would and released a mixtape in its place. That album, re-christened Untitled, turned out to be something of a mess. Fortunately, Green Lantern -- one of the most adept mixtape DJs -- had the good sense to strip some of the record's stronger verses (and outtakes) of their pop sheen, replacing them with appropriate, almost Public Enemy-style bombast. Note: This song contains explicit language.
Related NPR Stories