Activists Clamor For Organic Farm At White House
Activists Clamor For Organic Farm At White House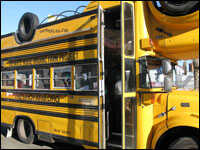 Web Resources
Michael Pollan's Advice For The White House
Listen to Michael Pollan, author of In Defense of Food: An Eater's Manifesto and The Omnivore's Dilemma, interviewed on Fresh Air. In the interview, Pollan calls for the next president to plant a farm on the White House grounds and hire a "Farmer-in-Chief."
President-elect Barack Obama will have his hands full when he takes office in January, and some activists want to make sure his belly is full, too — full of fresh fruits and vegetables. Several campaigns are petitioning Obama to plant an organic garden on the White House lawn, and they've devised peculiar ways of getting attention.
Take, for example, Daniel Bowman Simon and Casey Gustowarow and their upside-down, topsy-turvy bus — a vehicle that is actually one school bus flipped on its back and fused on top of another. On the roof, where the second bus's engine would have been, is a small but hardy vegetable garden.
"People have just kind of gravitated toward this upside-down school bus just because they want to know what it is," Simon says. "So it opens up the potential for having a conversation."
Simon and Gustowarow founded the White House Organic Farm Project –- or TheWhoFarm. Since August, they've driven through 25 states visiting farms, markets, schools and restaurants, asking people to sign their petition.
"We need to be more holistic in the way that we view health in this country, and a lot of it comes down to eating healthier," Simon says. "People who eat healthier don't get sick as much."
But for the WhoFarm guys and other sustainable-food junkies, eating locally grown produce is not just about health. They say it's also about cutting down the amount of fuel we use to transport food, encouraging communities to congregate around a garden and rediscovering America's agricultural roots. Simon says the president should lead by example.
"If we have arguably the most famous person in the country eating off the most visible piece of land in the country, which is a piece of land that we all share collectively, that could inspire immense changes," he says.
And the WhoFarmers are not the only grassroots gardeners trying to get the president-elect's attention. In February, Roger Doiron, director of Kitchen Gardeners International, launched an online campaign called Eat the View — the "view" being the pristine White House grounds.
"It might sound a bit trivial to some people, the idea of a garden on the White House lawn," Doiron says. "But it's not. It's something that would speak to millions of people in the United States and even more people around the world who look at gardens and small subsistence farms as a way of making a living, as a way of putting good food on the table."
Like TheWhoFarm, Eat the View has an online petition. In total, the campaigns have collected about 18,000 signatures. (It's hard to say how many are duplicates.) At one point, Doiron even raised money for his nonprofit by selling imaginary plots of the White House lawn on eBay.
But not everyone is so supportive of these campaigns. Alex Avery, author of The Truth About Organic Food and director of research at the Center for Global Food Issues, is critical of the larger organic farming agenda.
"I think the idea to put an organic farm on the White House lawn is as shallow a stunt as is the intellectual rigor of the organic movement as a whole," he says.
According to Avery, feeding the world's population organically — that is, without synthetic fertilizer — would require plowing down millions of square miles of wildlife habitat in order to achieve the same yield of food.
"It would create no solutions — it would, in fact, create nothing but problems," Avery says.
Not to mention that some of what the activists are proposing may already be going on. Walter Scheib, executive chef at the White House for 11 years under Presidents Bill Clinton and George W. Bush, says that people might be surprised at some of the sustainable practices already in place at the White House.
"There's always an assumption that something isn't happening already," he says. "But Mrs. Bush is adamant about organics. If anything was available as an organic it was to be a default."
Scheib says that when he arrived at the executive residence during the Clinton administration, there was already a small vegetable garden on the roof, which he expanded during his time there.
Still, TheWhoFarm and Eat the View are petitioning for something a bit more ambitious and more visible. Both campaigns are suggesting that the White House produce enough food to help stock D.C. food banks. In addition, Simon and Gustowarow have proposed that schoolchildren and people with disabilities work at the First Farm.
The Secret Service would not comment on the feasibility of that.
Nonetheless, the activists find reasons to be optimistic. Famous foodies like chef Alice Waters and bestselling author Michael Pollan are calling for a White House garden. And the students at Watkins Elementary, a school TheWhoFarm visited in southeast Washington, D.C., seem pretty excited, too.
"You guys are so cool!" several students shouted when they saw TheWhoFarm's wacky ride.
"Good luck," one girl said after TheWhoFarmers had explained their project. "I'll go home and sign your petition if my mom lets me."
"Yes," Simon told her. "Ask her for permission."
Now all these traveling gastronomes need is for Obama to get on the bus.
Related NPR Stories