Filmmaker Reflects On 'Waltz With Bashir' Reception
Filmmaker Reflects On 'Waltz With Bashir' Reception
Ari Folman and David Polonsky/Courtesy Sony Pictures Classics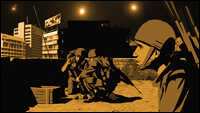 Ari Folman and David Polonsky/Courtesy Sony Pictures Classics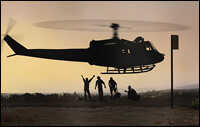 Ari Folman and David Polonsky/Courtesy Sony Pictures Classics
When Israeli filmmaker Ari Folman set out to make the animated documentary Waltz With Bashir, his father warned him not to do it.
The movie documents Folman's effort to fill in the holes and piece together his unit's role in the massacre of Palestinians at the Sabra and Chatila refugee camps during Israel's 1982 invasion of Lebanon and the siege of Beirut. Israel's Lebanese Christian allies, the Christian Phalangists, killed the refugees, but Israeli generals engineered it and Israeli soldiers — like Folman — assisted them.
Folman tells NPR's Robert Siegel that his father said "everyone would be furious" about the film, which does not offer a heroic view of the Israeli Army, and that Folman would be "hounded by the government for years."
But Folman went forward with it — as sort of a way of rebelling, he says — in part to convince teenagers to stay away from war.
"For me, it was very essential to bring young audiences to the theaters to watch the film because I thought that if this film could influence even one teenager making the decision not to go the war, it doesn't matter where I did my job, I earned it," Folman says. "All wars are useless ... and sometimes in films we tend to glorify them by making all of those great characters and they show you it's all about bravery and brotherhood of man. And I don't believe in that."
Folman specifically used animation to tell the story, he says, because it gave him creative freedom to move from one dimension to another — "from reality to dreams to subconscious issues to hallucinations to drug influences to war, which is probably the most surreal thing on earth," he says.
An emotion that's depicted strongly in the movie is a sense of fear among the Israeli soldiers.
"You're very young and you're totally clueless," Folman says. "The fear is that you don't know if you'll live the next day. And you don't have any decisions that can change it."
Along with reconstructing memory, one of the main points of the movie is chronology, Folman says. During the mass killings, Israeli soldiers like Folman launched flares to assist the Christian Phalangists.
"For us what happened during the massacre in the camp was something that was taken out of our systems because we are not eyewitnessing it," Folman says. "We did ourselves an easy life by saying we didn't know that it was going on. The responsibility was much more a government issue, and us as common soldiers, we were clueless."
But when did the Israeli soldiers realize their role in the massacres? This is something Folman aimed to address.
"When do you realize everything you hear and see ... second- and third-hand information, when do you put everything into one frame and you say, 'OK, there is something very bad, there is mass murder going on just around the hill,'" he says. "And then what do you do in order to prevent it? It's more about chronology of events than about anything else."
To Folman's surprise, the film was received "too well" in Israel.
"I was expecting at least a kind of debate — at least a controversy, something," Folman says. "And then I was hugged dearly by all of the political spectrum, the government took it as a project and they keep sending the film all over the world on their expense. I considered myself this really cool rebel and now I'm the government's darling, so it's kind of problematic for me."
He says the experience shows that Israel is a tolerant country and "in Israel you can say whatever you like." And he kind of enjoys the attention.
"In a way I'm sorry that my father doesn't live to see it," Folman says.
Related NPR Stories
'Waltz With Bashir': A Delicate Dance With Memory
Ari Folman/David Polonsky/Sony Pictures Classics
Waltz with Bashir
Director: Ari Folman
Genre: War, Memoir, Animation
Running Time: 90 minutes
Rated R: War violence, atrocity aftermath, sexuality

(Recommended)
Ari Folman/David Polonsky/Sony Pictures Classics
The first thing to appear in Waltz With Bashir is an animated dog, but it looks nothing like Bolt. This 'toon is part of an angry pack of yelping, yellow-eyed predators — a nightmare vision.
In fact, Israeli writer-director Ari Folman's powerful, innovative film is composed largely of nightmares, all but the final one rendered in graphic-novel style. A series of flashbacks from Israel's 1982 invasion of Lebanon, Waltz With Bashir has been called an "animated documentary." Yet it's not about what happened, but what's remembered.
"Memory is dynamic. It's alive," says one character. That's why the movie was drawn rather than filmed: to capture that mutability, the play between fact and fantasy, guilt and denial, in 25-year-old recollections.
The dogs are part of one man's Lebanon experience, remembered in a bar conversation with a cartoon version of the director himself. After learning what triggered the wolf-pack vision, Folman begins to wonder what he did or saw in Lebanon.
Was he near the Sabra and Shatila camps where Christian Phalangist militias murdered Palestinian refugees after the assassination of Lebanese President-elect Bashir Gemayel? (Gemayel is the movie's title character.) Folman can't seem to remember, so he begins to collect other veterans' stories.
The project takes Folman around Israel and overseas to Holland. As he travels, his quest flows into the anecdotes he hears: Abandoned on a Lebanese beach, a soldier swims south to safety. As a battle rages, a man imagines being rescued by a beautiful nude giantess. Troops enter a hippodrome and are shocked to find it full of dead horses.
These are real stories, told in voiceover by the participants. (Usually: In two cases, an actor recited the text because a narrator didn't want his voice in the film.) The anecdotes may not all be literally true, but they certainly haven't been sanitized, and some of them are supported by multiple accounts.
The episodes are mostly accompanied by stark, neoclassical music, occasionally punctuated by the cold sounds of '80s British art-pop. Public Image Limited's "This is Not a Love Song" underscores a soldier's tale of alienation while on furlough in a war-ignoring Israel; Orchestral Manoeuvres in the Dark's "Enola Gay" plays as bombs fall.
Folman's own long-suppressed recollections of the Lebanon war were triggered by sessions with an army psychiatrist, which are required of soldiers leaving the Israeli reserves. So it's understandable that Waltz With Bashir plays as a psychological exercise as much as a political one. The movie doesn't pretend to answer all the war's lingering questions. It's only about the Israeli veterans, what they did and saw and how they lived with the memories.
If Folman doesn't consider Lebanese or Palestinian viewpoints on the war, he does progress from individual anguishes to general horror. The movie ends, boldly and disturbingly, with the Sabra and Shatila massacres, finally switching from animation to documentary footage. Ultimately, Waltz With Bashir's nightmares are everyone's. (Recommended)
Related NPR Stories