The Year In Music For Kids (And Parents)
Scroll Down To Hear Songs From All 10 Albums
Hear Kathy O'Connell Discuss Her Top Pick
This has been one of the best years for kids' music in recent memory, including many new releases from artists with feet firmly in both kid-friendly and adult-oriented worlds (Lisa Loeb, Medeski Martin & Wood). Old favorites (Trout Fishing in America, Gunnar Madsen) went in new directions, while emerging artists (Randy Kaplan, Ham & Burger) gave a glimpse of the future of a genre as diverse and unpredictable as kids themselves.
Click here for more entries in the Best CDs of 2008 series.
The Year In Music For Kids (And Parents)
1. Trout Fishing in America
Song: Alarm Clock Rings
from Big Round World
by Trout Fishing in America
My favorite band collaborated with classroom kids to create a variety of themes and genres, including forays into multicultural education that never lose the humor and balance at the heart of this duo. "The Alarm Clock Rings" veers from space-pop to heavy metal and back.
2. Lisa Loeb
Song: Disappointing Pancake
from Camp Lisa
by Lisa Loeb
A summer-camp theme album, Camp Lisa celebrates friendship ("Best Friend") and camp rituals, like the litany of packing chores that forms "Going Away." "Disappointing Pancake" earns its syrup with the line, "The crowd yelled, 'Batter, batter' / He felt right at home."
3. Justin Roberts
Song: From Scratch
from Pop Fly
by Justin Roberts
The title cut's saga of dandelion dreams interrupted by a softball hurtling through the sky sets the tone for this chronicle of real-life kid experiences. "From Scratch" celebrates Grandma's magical powers in the kitchen.
4. Gunnar Madsen
Song: Always on the Bottom
from I'm Growing
by Gunnar Madsen
In a gentle offering that never gets babyish, Gunnar Madsen honors classical music with "Mozart's at the Window (40th Symphony)." Along the way, he makes underachieving appealing in "Always on the Bottom."
5. Scribblemonster & His Pals
Song: Sleep
from Songs with No Character
by Scribblemonster & His Pals
A chronicle of parent/child life, Songs With No Character lets a mainstream sound mask its anarchic core. "I'm a Utility Pole (The World's Worst Dance Song)" opens listeners to the wonders of the telephone pole, while "Sleep" is an anti-lullaby insomnia rocker.
6. Randy Kaplan
Song: Loquat Rooftop
from Loquat Rooftop
by Randy Kaplan
Singer/storyteller Randy Kaplan crafts a brassy, old-timey collection with subjects from "The Fire Engine" ("It's big, it's red / It's metal with water") to laundry camp ("Clothes Dryer"). "The Ladybug Without Spots" showcases Kaplan's bluesy storytelling.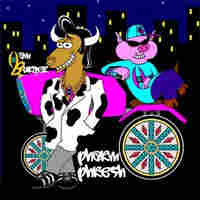 7. Ham & Burger
Song: Jungle Jim
from Pharm Phresh
by Ham & Burger
Crafting inventive, high-energy hip-hop with infectious humor, Ham & Burger is the duo of a pig and a cow. (Guess which is which?) "Alphabet" functions as a joyous teaching tool for toddlers, while "Jungle Jim" addresses lying -- or is it imagination?
8. Sandra Boynton
Song: Gorilla Song
from Blue Moo
by Sandra Boynton
This mini-musical pays homage to early-'60s rock. Real icons like Brian Wilson, B.B. King and Neil Sedaka perform original Boynton & Ford songs, each appropriate to the time frame and bursting with humor. Sha Na Na even turns up to get kid-silly in "Gorilla Song."
9. Ellis Paul
Song: Because It's There
from Dragonfly Races
by Ellis Paul
Folksinger Ellis Paul's intimate style mixes complex guitar riffs with simple themes. "Million Chameleon March" is about the power to change, and "Because It's There" celebrates possibilities that lead to the moon and under the sea.
10. Medeski, Martin & Wood
Song: Where's the Music
from Let's Go Everywhere
by Medeski, Martin & Wood
The instrumental trio Medeski Martin & Wood adds a toy piano to a collection that sparks imaginative listening without lyrics. Kids' voices jump in occasionally to remind listeners of the target audience, asking, "Where's the Music?"