Librarian Nancy Pearl Dips Below The Reading Radar
Librarian Nancy Pearl Dips Below The Reading Radar
More From Nancy Pearl
There are so many books published these days — ranging from brilliant to dismal, from interesting to deadly dull — that, faced with row upon row or table upon table at a library or bookstore, it's often hard for readers to plow through everything that's available. Although we all can turn to reviews, advertisements or the best-seller lists for some suggestions, many books remain unreviewed and overlooked. I always especially like to look for books that have fallen beneath the reading radar, or books that I think more people ought to know about, because they're just too good to overlook. Here are some of my recent favorites.
'Firmin'
Firmin by Sam Savage, illustrated by Michael Mikolowski, paperback, 162 pages, Coffee House Press, list price: $14.95
Firmin, the title character of Sam Savage's novel, is a real rat. I mean a real rat — the sort with four legs, a long tail and presumably a pinkish nose (the color isn't certain since the illustrations are in black and white). What sets Firmin apart from others of his clan is that Firmin is a reader. He devours books — both figuratively and literally.

Born in the basement of a book shop in Boston's Scollay Square in the 1960s, Firmin (the runt of the litter) discovers his passion early on when he is nourished not by his mother's milk (too many siblings jostling about ahead of him), but by the books he both gnaws on and reads. Beginning with a diet of Moby Dick and Don Quixote, Firmin naturally worries about finding his Destiny. A quick look in the mirror tells him that he'll never be as dapper and debonair as his hero Fred Astaire, and he'll never search for an elusive white whale or tilt at windmills. But surely, he thinks, there's something more to life than scrounging for food in a dilapidated movie theater:
Could it be that I, despite my unlikely appearance, have a Destiny? And by that I meant the sort of thing people have in stories, where the events of a life, no matter how they churn and swirl, are swirled and churned in the end into a kind of pattern ... Lives in stories have direction and meaning. Even stupid and meaningless lives, like Lenny's in Of Mice and Men, acquire through their place in a story at least the dignity and meaning of being Stupid Meaningless Lives, the consolation of being exemplars of something. In real life you do not get even that. ...
This darkly comic homage to the power of imagination, the lure of books and the desire to live a life that means something speaks to all of us. And you'll never think about rats the same way.
'Alice In Sunderland'
Alice in Sunderland: An Entertainment by Bryan Talbot, hardcover, 319 pages, Dark Horse Comics, list price: $29.95
As I read Bryan Talbot's idiosyncratic (and hugely entertaining) graphic novel Alice in Sunderland, the word that kept coming into my mind was "brilliant." Talbot explores the connections between Sunderland, his beloved hometown in England's northeast corner; and another of his great loves, the works of Lewis Carroll, especially Alice's Adventures in Wonderland and Through the Looking Glass. (I also realized, while reading Talbot's work, that the term 'graphic novel' is just not descriptive enough to categorize illustrated books like this, and how the word 'reading' fails to capture the totality of the experience of poring over a work like Talbot's — but that's two whole other discussions.)

I was unfamiliar with Talbot's work, and so had no expectations of any sort when I first opened the book — but was I ever dazzled by what I found! Among a dizzying number of other topics, Talbot offers up a history of Sunderland from the Roman occupation to the present; an extended accounting of Lewis Carroll and Alice Liddell's family trees; a comic book-style rendering of the myth of the Lambton worm (worm — or wyrm — being an ancient name for dragon); a sight-seeing journey down the river Wear (pronounced to rhyme with 'hear'); famous Mackems (as the residents of Sunderland are known), past and present; well-known writers, artists, performers, musicians and politicians from the present day who have Alice or Sunderland connections; a discussion of when and why Carroll wrote the Alice books; and a metafictional discourse on comics, among much, much more. The accompanying illustrations are in both black-and-white and color, and include drawings, photographs, reproductions of articles from old newspapers, fragments of letters and — again — much more. And the total package is presented in a nonlinear, nonchronological manner, circling backward and forward in time and subject, so the total experience is rather like dreaming, where myth, reality and invention mix and mingle. Not unlike the Alice books themselves, come to think of it.
'Borges And The Eternal Orangutans'
Borges and the Eternal Orangutans by Luis Fernando Verissimo, translated from the Portuguese by Margaret Jull Costa, paperback, 144 pages, New Directions, list price: $13.95
I would call Luis Fernando Verissimo's Borges and the Eternal Orangutans a thinking man's mystery, except that would be sexist. So instead, I'll designate it as a thinking person's mystery. What else could you call a book that has Jorge Luis Borges as a central character, takes place at a convention of rabid Edgar Allan Poe fans, and makes great use of the writings of the kabbala and the Apocrypha, as well as the beliefs of the Elizabethan court occultist John Dee?

So who killed Joachim Rotkopf, the completely unlikeable German Poe scholar now living in Mexico? Rotkopf had antagonized nearly everyone he came into contact with, including an American whom Rotkopf humiliated in print, an Argentinian professor and a Japanese scholar. Or perhaps the murderer is someone else altogether ...

Very short and smoothly translated, this cerebral novel-cum-mystery will, of course, please anyone who loves Borges or Poe. But it will also entertain fans of Eco's The Name of the Rose. Though it's not really necessary to have read either Poe or Borges to enjoy Verissimo's book, those who have will probably get the many references to their writings. And those who haven't will no doubt immediately want to read the short stories of both.
'The Ghost In Love'
The Ghost in Love by Jonathan Carroll, hardcover, 320 pages, Farrar, Straus and Giroux, list price: $25.00
The first paragraph of Chapter 9 in Jonathan Carroll's loopy and heartwarming, philosophically-inclined fantasy novel The Ghost in Love is a surefire test of whether or not you'll enjoy the book. Here it is:
A man, a dog, and two understandably disgruntled women were walking down a sidewalk. One woman was a ghost, the man should have been dead, the dog was the reincarnation of the should-have-been-dead's girlfriend, and the last, the tall woman, was an innocent bystander who had the bad fortune of loving two of the others.
If you can joyfully embrace those two sentences rather than wanting to either the throw the book across the room (if it's a library book, please don't) or put it down in bewilderment and frustration, you'll enjoy this novel. When Ben Gould fell and hit his head, he should have died — but he didn't. The ghost who's been sent to escort Ben's soul to the afterlife can't understand what happened. And neither can the ghost's boss, who tells his employee to hustle back to Earth and keep a close eye on Ben until they figure out what's happening.

Then things get really complicated, as Ben realizes that he and the rest of humanity are (as William Ernest Henley put it in his poem "Invictus") now masters of their fate and captains of their soul. As we, along with the characters, explore the possible implications of this, Carroll has a lot of fun with ghost gourmands, dogs who talk and the possibility of meeting up (in this case, at a picnic in the rain) with a whole host of our younger selves. You'll need to allow yourself a lot of willing suspension of disbelief to enter Carroll's magical world, but it's well worth it.
'The Lost Spy'
The Lost Spy: An American in Stalin's Secret Service by Andrew Meier, hardcover, 304 pages, W. W. Norton & Company, list price: $25.95
Ford Madox Ford began The Good Soldier, his classic novel of love and betrayal, with a powerful declarative sentence: "This is the saddest story I have ever heard." It's a sentence that could easily have been the first line of The Lost Spy: An American in Stalin's Secret Service, Andrew Meier's fine biography of Cy Oggins — and it would have been doubly heartbreaking, because the story Meier tells is true.

As teenagers, Cy Oggins and his wife, Nerma, fell in love with communism, which they saw as offering a solution to the poverty, racism and labor issues confronting America in the 1920s. Meier writes that as a student at Columbia University, Oggins was "caught in the thrall of the Soviet dream" and recruited into Russia's intricate spy network. By the time he was 30, in 1928, Oggins (often accompanied by Nerma) was traveling throughout Europe and the Far East in the Soviet underground. Then, in 1939, he was arrested in Moscow by the KGB and sent to the Gulag with thousands of other criminals and "politicals." After Oggins served his eight-year sentence, he was brought back to Moscow and murdered by a direct order of Stalin's.

The Oggins' story came to light only accidentally — Meier, a reporter, was interviewing survivors of one of Stalin's labor camps and asked, almost idly, if there were any Americans among the Korean, Russian, French, Swede and Afghan prisoners. "Yes," a French survivor said. Meier managed to follow a series of faint clues and reconstruct Oggins' story — one of youthful idealism, that ended with betrayal and finally his murder by the system he idealized.
'Previously'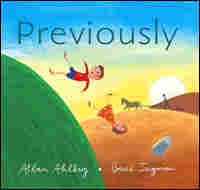 Previously by Allan Ahlberg, illustrated by Bruce Ingman, hardcover, 32 pages, Candlewick Press, list price: $16.99
Allan Ahlberg's whimsical take on the world comes through clearly in all of his books for young children, but perhaps never more so than in Previously, where he teams up with artist Bruce Ingman to produce a charming concatenation of some familiar fairy tales. Beginning with Goldilocks arriving home after her adventure with the three bears, author and illustrator tell her story backward, so to speak, by describing what she had been doing "previously." The final "previously" has her walking in the woods, before coming upon the house of the three bears, where she bumped into Jack (of climbing the beanstalk fame).

As his story progresses backward, it turns out that he's the same Jack who tumbled down the hill with his sister Jill, and that the two of them had encountered the Frog Prince, who (before he was turned into a frog) had fallen in love with "a disappearing girl named ... Cinderella," who had collided with the Gingerbread Man and his retinue, and so on and so on, until the very satisfying conclusion.

Reading this book aloud to 4- to 8-year-old children is a delight. Not only will they take great pleasure in repeating "previously" with you each time it appears (nearly 30 times) in the text, but they'll appreciate Ahlberg's word pictures — The Frog, "sitting on the window sill/with a sorrowful look in his eye/and a crown on his head"; or Goldilocks, who "had been humming a tune/and having a little skip by herself in the dark woods." Beginning with the deliberately childlike pencil drawings on the endpapers, Ingram's pictures offer a colorful and clever complement for Ahlberg's quirky text. Just take a look at the picture of the poor Frog Prince watching Jack and Jill arguing at the breakfast table, and you'll see what I mean.
'The Ginseng Hunter'
The Ginseng Hunter: A Novel by Jeff Talarigo, hardcover, 192 pages, Doubleday, list price: $21.95
If you were to pick one of the most unusual spots in the world in which to set a novel, the setting of Jeff Talarigo's The Ginseng Hunter would be a good choice: It takes place in a valley in China located along the Tumen River, which divides the country from North Korea. At the turn of the 21st century, the narrator, a nameless, solitary, middle-aged man who's half-Chinese and half-Korean, makes a meager living selling the ginseng he digs from the ground — limiting himself, as his father taught him — to picking one root a day.

Once a month, except when winter makes the roads impassable, he walks eight hours to Yanji, the nearest city, where he sells his ginseng, buys provisions and visits a prostitute. But political events in the larger world begin to intrude on his clockwork existence: Chinese soldiers have dug foxholes close to the Tumen, and dead bodies are seen floating in the river; an unfamiliar child steals food from his garden; and a truck driver tells him how easy it is to earn money by turning North Korean refugees in to the local authorities. On one of his visits to Yanji, the young prostitute whom he regularly sees begs him to help her find a better life. What should he do? How involved in another's life does he want to become?

Woven into this story is another: the harrowing tale of a mother and daughter facing starvation under the brutal regime of North Korea's dictator, Kim Jong Il. Because its subject matter — political oppression, loneliness, the madness of grief — is so overwhelmingly sad, Talarigo's second novel (his first was The Pearl Diver) is not an easy book to read. Nonetheless, I highly recommend it — the prose is spare and immaculate, the description of life in the narrator's valley is simultaneously vivid and bleak, and the depiction of the best and worst of what mankind is capable can only encourage us to be better people.
'The Broken Shore'
The Broken Shore by Peter Temple, paperback, 368 pages, Picador, list price: $14.00
When I was in Australia a few years ago, a fellow librarian and good friend recommended Peter Temple's The Broken Shore to me. So I got a copy, read it there and was just blown away by how good it was. At the time, though, it wasn't published in the U.S., so I couldn't include it in Pearl's Picks. Now, however, it's available here, and after a second reading for the purposes of writing this month's recommendations, I can assure any reader on the hunt for a powerful and complex crime novel with a social conscience that this is a book that shouldn't be missed.

After being brutally assaulted in a Melbourne stakeout that went horribly awry, homicide detective Joe Cashin is reassigned, for a period of recuperation, to the sleepy, relatively crime-free oceanside town of Port Monro, where he spends his time mostly brooding on the past, drinking to deal with the residue of the physical and emotional pain from the attack, and going for long walks with his two large black poodles.

But when Charles Burgoyne, a Port Monro entrepreneur, is discovered in his ransacked house on the verge of death, Cashin finds himself back doing serious police work. Suspicion falls on two aboriginal boys who live in the nearby ghetto known as The Daunt. But are they guilty? To find the truth, Cashin has to deal with the seemingly endemic racial prejudice against the Aborigines, corrupt and inept colleagues, and the residue of his own past.

The American writers Temple most resembles are Richard Price, Dennis Lehane and George Pelecanos — all of whom look squarely at the depths of depravity that humans are capable of (and write like fallen angels). But the fiction writer whom Temple most reminded me of is his fellow Aussie, Tim Winton, perhaps because they both have a powerful talent for evoking both the setting and soul of Australia. Here's Temple describing the small, rundown town of Port Monro, where Joe himself spent part of his childhood:
But the year had turned. May had come, the ice-water rain, the winds that scoured skin, and just the hardcore left — the unemployed, pensioners, people on all kinds of welfare, the halt, the lame. Now he saw the town as you saw a place after fire, all softness gone: the out-crops of rock, the dark gullies, the fireproof rubbish of brown beer bottles and car skeletons.
(It's also interesting for American readers to note that several years after this book was published, the Australian government, under the leadership of newly elected Prime Minister Kevin Rudd, formally apologized to all the indigenous peoples of the country for past wrongs. Joe Cashin would have approved.)