Pink Martini: An Eclectic Splash Of Strings
Pink Martini in Concert at the Walt Disney Concert Hall 12/31/08
Set List
"California"
"Amado mio"
"Anna"
"Sympathique"
"Lilly"
"Que sera sera"
"Una notte a Napoli"
"Praeludium & allegro"
"Flying squirrel"
"Uskadar"
"Over the valley"
"Bukra wb'ado"
"Someone to Watch Over Me" (With Jimmy Scott)
"Tea for Two" (With Jimmy Scott)
"Hey Eugene"
"Dosvedanya mio bombino"
"Donde Estas, Yolanda?"
"Hang On Little Tomato"
"Andalucia!"
"Auld Lang Syne"
"Oregon! Oregon!"
"Malagueña"
"Brazil"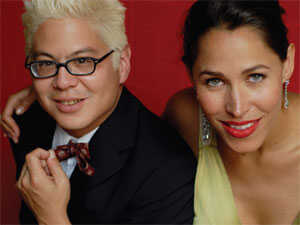 Is it lounge or is it swing? Is it world music or is it classical music? Is it jazz or is it samba? If you think one band couldn't possibly do them all, have a listen to the 12-piece "little orchestra" called Pink Martini. The band's three albums — Sympathique, Hang on Little Tomato and Hey Eugene! — profess a mastery of all kinds of music as Pink Martini deftly refuses to be labeled a one-genre ensemble.
The group brought its eclectic stylings to the Walt Disney Concert Hall in Los Angeles this New Year's Eve. With a splash of orchestral strings, smooth lyrics and a swig of a cha-cha, Pink Martini had the crowd raising its glasses for more.
Related NPR Stories
Web Resources