Enya's New Album Celebrates Winter
Enya's New Album Celebrates Winter
Hear the Songs
White Is in the Winter Night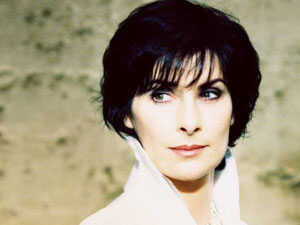 Ireland's best-selling solo artist, Enya, has a new album out. The aptly titled And Winter Came... explores themes of the season and the passing of time.
"It has to do with that reflective time of year," Enya says of the title. "The spring, summer, is quite a hectic time for people in their lives, but then it comes to autumn, and to winter, and you can't but help think back to the year that was, and then hopefully looking forward to the year that is approaching."
Enya's new album finds her elaborating on her otherworldly sound, but also drawing from other, more earthly places.
"There is a really strong influence musically from The Beatles," Enya says of "My! My! Time Flies!" — a song that references a conversation Enya had with Roma Ryan, her primary lyricist, about music's progression over time.
Over the years, Enya has received a fair amount of flak from critics.
"I do understand that not everyone is going to sit and listen to an Enya album," she says. "When someone says it's not their cup of tea, it's not their kind of album, that's fine by me.
"When you spend two to three years working on an album that I feel very happy with the end result, there is nothing I would change," she says. "Musically, I have achieved what I set out to do."
Web Resources
Enya Paints The Sky 'With Stars'
Grammy-winning vocalist Enya has been called ethereal, haunting, multilayered and mystical — and just a wee bit funky, as the Irish probably never say. Her recordings can sound like a chorus of angels, even though it's just Enya by herself, as she sings and plays keyboards, strings and percussion.
She and her producer, Nicky Ryan, layer one track of her voice over another to produce the musical equivalent of mixing watercolors. Enya says that her process of composing begins with an emotional perception rather than the more intellectualized process of writing something down.
"Basically, I would work in the studio writing a melody," she says. "And when that moment happens, I usually like to let the melody take me on a journey itself. So when I sit back, listen to the finished melody, it's only then that I can hear what it's about.
"I find I'm not one of these composers that are, you know, walking along a beach or walking on the mountainside in County Donegal that's, you know, 'Oh, a melody,' " Enya says. "It's more a matter of eventually taking that moment with me to the studio, and it begins to evolve."
Click the audio link above to hear Enya talk to host Scott Simon about her new collection, Paint the Sky With Stars: The Best of Enya.