Lucero's Ben Nichols Plays 'Blood Meridian'
Lucero's Ben Nichols Plays 'Blood Meridian'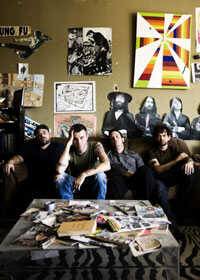 Live In The Studio
"The Last Pale Light In the West"
Ben Nichols, lead singer of the alternative country band Lucero, just released his new solo album, The Last Pale Light in the West. Its songs are based on the book Blood Meridian by Cormac McCarthy, who also wrote No Country for Old Men and The Road. The novel recounts the adventures of a teenage boy who runs away from home and meets up with the Glanton Gang, a group of outlaws assigned to kill Indians around the Texas-Mexico border in the mid-1800s.
Nichols says the book was unlike any other he'd ever read. He says he was most intrigued by the relationship between the main character, who is never named, and his nemesis, Judge Holden.
"You've got these two opposing forces: kind of the innocence of the kid — who's, I think, 14, 15, 16 through most of the book — and then this character, the Judge, who is brilliant but also very evil," Nichols says. "So just the clash of these two characters in this very dramatic setting — it's basically a Western, but these two characters in this particular setting really caught my imagination."
The songs Nichols writes for Lucero are usually based on his firsthand experiences, rather than stories and novels. Nichols says he prefers the intimacy that comes along with telling stories based on his personal history.
"I've always found that, basing the songs on things I have firsthand knowledge of, it was easier to make the songs ring true," Nichols says. "When I've tried to just make stuff up out of thin air, you can tell. It doesn't have the sincerity."
Nichols says he discovered that using McCarthy's book as inspiration for the songs was very similar to writing them from his own experience.
"It was nice to have this reference material to go back to," he says. "I think I was able to ... find the same kind of sincerity in these songs that I'm able to do with songs about myself, just because the book made such a big impact on me, and it was always there to reference. I think the songs came out in a very honest way."
Click the "Listen Now" link above to hear more about The Last Pale Light in the West.
Web Resources