Mysterious Methane Gas Found In Mars' Atmosphere
Mysterious Methane Gas Found In Mars' Atmosphere
This week, astronomers reported finding methane gas in the Martian atmosphere. The study, published in Science, says the gas could have been generated by geochemical activity or possibly by living organisms. Planetary scientist Michael Mumma discusses the finding.
Gas Plume On Mars Signals Potential Life
Gas Plume On Mars Signals Potential Life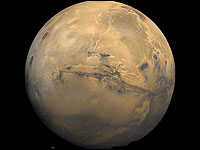 NASA/JPL/Malin Space Sciences System
Astronomers have pinpointed an active region on Mars that's venting methane gas, which is a possible sign of life on our neighboring planet.
Here on Earth, most methane is produced by living organisms such as bacteria in swamps, cow stomachs or termite bellies. But methane can also come from minerals, so it's a bit early to hail new life forms in our neighborhood.
A report published online by Science magazine shows that methane, which had previously been reported in the Martian atmosphere, actually comes from specific parts of the planet with geology similar, in some aspects, to that on Earth.
"This is a very interesting region already because it suggests conditions were right in early Mars at this site for biology to perhaps have originated," says Michael Mumma, at NASA's Goddard Space Flight Center. "And now that we have found this to be a site of abundant methane release, this perhaps raises that possibility to a higher level."
Mumma and his colleagues discovered that methane not only comes from a particular area of Mars, but it seeps out from underground only during the relatively warm summer months.
Those observations provide new clues about the source of the methane. It's likely there are actually pools, or liquid water, under the frozen Martian soil. And in those pools, either chemistry or alien life forms could be producing methane gas.
"I'd love to see life on Mars. I mean, everyone is just hoping to see life on Mars," says Christopher Oze, a geologist at Bryn Mawr College in Pennsylvania. "But, you know, you've got to go with what you know so far," he said. And at the moment, there's no proof that the methane was produced by life forms.
And if the methane did originate from living organisms, those life forms could be long dead, like the ancient plants that left behind fossil fuels on Earth.
Mumma says scientists can answer these questions if they can figure out exactly where to land science probes on Mars. To do that, they need to pinpoint the sources of methane.
"The problem right now is that we really don't have instrumentation in orbit, or planned for Mars, that can do these global studies," he says.
A spacecraft that can identify the source of methane is supposed to land on Mars in 2012. Maybe it will have a lucky landing, so scientists can solve this high-stakes mystery.
Related NPR Stories