New Pornographers' A.C. Newman Gets 'Guilty'
New Pornographers' A.C. Newman Gets 'Guilty'
Hear Songs From 'Get Guilty'
Like a Hitman, Like a Dancer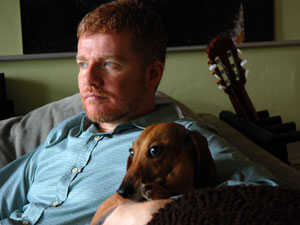 A.C. Newman is releasing a new solo album this week, Get Guilty, in the midst of a successful career as the frontman for The New Pornographers. He says the decision to begin recording solo albums came when the band decided not to tour without member Neko Case, who also has a successful solo career in her own right.
"Basically, from the end of 2003 to early 2005, we only did two New Pornographers shows," Newman says. "So I thought, 'I gotta fill my time with something.' I was at a point where I was making a living doing this, so I figured [that] this is my job and I should do something with my time. So I made a solo album (2004's The Slow Wonder)."
Newman says that the experience of writing and recording a solo album provides a good balance to being a member of a band.
"I think it's good just to have a change," he says. "I think when you're in a band for a few years, you get to a point where you think, 'God, I just want to do something where I don't answer to anybody. I want to do something that's just me.' And then, when you do that and you finish it, you think, 'Oh, thank God I'm going back into a scenario where it's a band again.' "
The title of the album, Get Guilty, comes from an otherwise inconsequential sentence in a Donald Barthelme story.
"Like most things I say, it doesn't really mean anything, really," Newman says. "I don't even remember what the story was called, but he passingly referred to 'getting guilty.' Sometimes, words just jump out at me."
Newman says the phrase inspired him because of its ambiguity.
"I like the possible meanings of it — that you could get guilty, which means feel guilty about something you did. Or you get guilty, which could mean do something that you should be guilty for. So one of them's kind of feeling bad about something, and the other one is purposely doing bad, I think."
Web Resources