New Discoveries in Modal Jazz
It wasn't so long ago that the discussion of modal jazz outside of select circles in San Francisco and London seemed to be relegated to the white-bearded record collecting crowd. You know, those cats who sensed something big happening when Miles Davis recorded Kind of Blue, when John Coltrane recorded A Love Supreme.
Sure there were those youngsters reared on Herbie Hancock's modal-work. But the idea of developing a following for the fringes of modal jazz outside of that certain, aged camp seemed impossible. A choice selection or two on a hip compilation, and Jazzman Records' exhaustive survey,Spiritual Jazz: Esoteric, Modal, & Deep Jazz From The Underground, seems to have changed that. Suddenly, one time Sun Ra cohort, the Egyptian drummer Salah Ragab, saw his obscure "Neveen" encourage DJs 'round the globe to rethink what was once considered too "learned" to play in a club. Welcome to the funky side of modal jazz.
New Discoveries in Modal Jazz
P.E. Hewitt Jazz Ensemble
Song: Bada Que Bash
from Winter Winds
A supremely rare album, the recent re-discovery of P.E. Hewitt made this hand-assembled LP (Hewitt's third, custom pressed in a run of about 50 pieces and sent to record labels in hopes of securing a recording contract) available to the select few able to get their hands on one of the surviving copies. A reissue is planned – and the timing couldn't be better. "Bada Que Bash," the standout, latin-tinged track on the album, showcases the awesome alto talents of previously unknown Charley Forsberg and makes a strong case for the largely unheard genius of vibraphonist/leader Hewitt.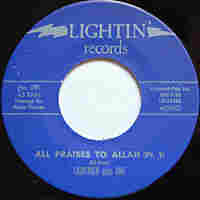 The Lightmen Plus One
Song: All Praises To Allah
from All Praises To Allah
The 45 was certainly not the medium of choice to release a jazz tune, but that didn't stop Houston-based drummer Bubbha Thomas, who released this 7" on his own imprint around the same time he released his landmark album Energy Control Center. The version here is presented in an edit of both sides of the 45.
Kashmere Stage Band
Song: All Praises [Live]
from Texas Thunder Soul 1968-1974
As further proof of "All Praises To Allah's "funkability," the now-legendary Kashmere Stage Band covered it on their "Zero Point" LP and won Best High School Stage Band In The Nation based on their live version of the song at the Mobile, Alabama All-American Stage Band Festival in 1972. Note eighteen year old drummer Craig Green's breath-taking reprise.
The Youthful Musican's Summer Program
Song: Brougham
from Brougham
In the early to mid 70s, select members of Houston's various high school stage bands had the opportunity to participate in Bubbha Thomas's Summer Jazz Workshop and woodshed with the best talent the city had to offer. At the end of the year, the program recorded tunes for a 45 that Thomas released on Lightin' and sold to the workshop's participants and their parents. "Brougham," one of the best songs in a series that spawned twenty, recently caught the ears of British tastemaking DJ Gilles Peterson and serves as perfect introduction to the talent of Houston's teenage jazzers from nearly four decades past.
Heliocentrics
Song: Haunted House
from Sirius B EP
Who said that the genre couldn't be revived, tastefully? London, England's Heliocentrics, fresh off a gig backing the Ethiopian-jazz Mulatu Astatke – no stranger to the modal idiom himself – recorded this eerie opus, soon to be released on vinyl LP. Sun-Ra references abound, not surprisingly considering the band's name and drummer Malcolm Catto's fascination with Ra's superb arrangements.