Wreckless Eric And Amy Rigby: Brightly Cheery
Wreckless Eric and Amy Rigby in Studio on World Cafe 2/3/2009
Set List
"Another Drive-In Saturday"
"Men in Sandals"
"The Ballad of Easy Rider"
"Please Be Nice to Her"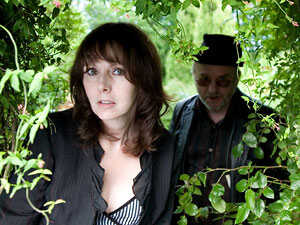 Now joining the ranks of the great rock 'n' roll duos are two well-known names in alternative pop: Wreckless Eric and Amy Rigby. Best known as the poster boy for Stiff Records in the late '70s, "Wreckless" Eric Goulden brings a background in power-pop to complement Rigby's knack for intense lyrical storytelling. The two met on tour when Rigby covered Eric's early hit "Whole Wide World," and was joined onstage by Wreckless Eric himself. They married years later, and have now released a self-titled album as their first collaboration.
Wreckless Eric and Amy Rigby is a blend of two complementary tastes. Rigby's own power-pop, alt-folk style is offset by Wreckless Eric's smart and calculated rock. They seamlessly trade off from background to solo to duet, shifting styles from edgy psychedelia to hard rock to a '60s-era Johnny Cash cover.
In a session with host David Dye, the pair explains how Amy keeps Eric focused on songwriting, and chats about their time living in rural France.