Credit Freeze Has Commercial Developers Shivering
Credit Freeze Has Commercial Developers Shivering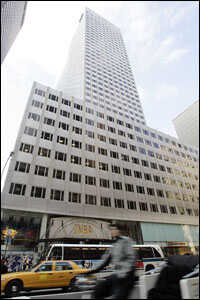 Stephen Chernin/Getty Images
You can get very rich buying and selling commercial real estate in New York City. And you can also lose everything you have. These days, some of the biggest office and retail developers in the city are fighting for their financial lives. Rents on prime Manhattan office space are tumbling, and credit is virtually impossible to come by. A lot of people in the industry want the federal government to help.
The sleek, 41-story office tower at 666 Fifth Ave. is on one of the most desirable corners in midtown Manhattan. When the building was sold in 2007 to the young developer Jared Kushner and his family, it fetched a U.S. record: $1.8 billion.
As the economy slowed, Kushner had trouble making the payments, says Peter Slatin of the research firm Real Capital Analytics. Kushner was counting on rent and building values to escalate. But amid the economic downturn, key tenants such as Citigroup have vacated parts of the building, and the building's value has plunged 25 percent to 30 percent since Kushner bought it, Slatin says.
The company has been able to sell some of the building's retail properties and refinance some of its loans. A spokesman for Kushner strongly denies the building is in distress. But a lot of people in the industry are skeptical.
Unrealistic Expectations
Whatever happens, Slatin says, the way Kushner financed the deal — using lots of short-term debt and unrealistic earnings projections — was typical of the way Manhattan developers operated during the boom years.
"Basically, financing was available to, as people like to say, a warm body," Slatin says. "You could go in and you could get non-recourse financing — which means you're not personally liable for it — with a little bit of equity, and then borrow your equity and then borrow your debt, which sounds pretty amazing. But you can put down very little in down payment. I call it the commercial real estate of the subprime loan."
For commercial developers like Lawrence Fiedler, it was all too easy to get the financing needed to buy office buildings. Fiedler says you only had to hold out your hand and someone — a bank, a pension fund, a sovereign wealth fund from overseas — would put money in it.
"And when you found the money, you put a time bomb in your pocket because most of the time that money was short-term money and had to be replaced by other money within a year," he says.
No Money To Refinance
Fiedler says many of those short-term loans are now coming due, and the developers are looking for ways to refinance. But there's no longer any money available for them. While credit may have thawed a bit in the residential market, investors are still steering clear of commercial real estate.
"It happens to everybody," Fiedler says. "I know an investment banker at one of the big offshore investment banks. They spend their time figuring out how to withdraw their commitments and not fund commercial real estate loans. You've got an absolute freeze going on in the credit markets."
The credit freeze has already claimed some notable victims. Last year, developer Harry Macklowe had to sell off some of his biggest properties, including the General Motors Building, when he couldn't secure financing.
Looking For U.S. Help
But Mitch Rudin of the real estate firm CB Richard Ellis says even developers with good credit ratings are having trouble getting loans.
"You have situations now, unfortunately, with the credit market as difficult as it is, where the loan has been serviced without issue for a number of years and the existing lenders are indicating they're not prepared to renew it, [they will] renew it on terms that don't make any sense," Rudin says. "That's a situation that just shouldn't happen."
Many in the industry are now pressing the federal government to help, perhaps by guaranteeing loans.
If it doesn't, they say, many commercial properties will end up in bankruptcy. And the already overstressed U.S. real estate market will be that much weaker.