Brewery Business Hopping Despite Tanking Economy
Brewery Business Hopping Despite Tanking Economy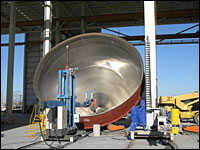 Americans love beer — one of the world's oldest alcoholic beverages. According to the Beer Institute, if you average it out, every American over 21 drinks more than 30 gallons of beer annually, and the beer industry is one of the few sectors not having its worst year since the Great Depression.
At the Draught House, a venerable neighborhood pub in Austin, Texas, business is good.
"Sales are up 10 percent in January," says Josh Wilson, the brewer and manager. "And I think perhaps people are giving up other things before beer."
Wilson's inklings are echoed by industry watchers like Harry Schumacher, editor of a trade newsletter, the Beer Business Daily.
"Beer is not recession-proof, but it's very recession-resistant," Schumacher says. "Being in the beer business is a better place than airline or car dealership business. It's an affordable luxury even during hard times — you can still afford to have a beer."
Though beer company stock prices were hurt by high commodity prices in 2007, they have been recovering, in part, because beer is considered a good hedge during hard times.
That's not to say the recession hasn't changed some beer drinking habits — with less to spend, people are drinking at home more and "trading down," as the industry says, to less expensive brands.
Strength In Microbrews
But local craft beers are going strong. The 512 Brewery in South Austin is a tiny operation — only seven months old — and sells only 100 barrels a month, all locally. It has one delivery van and two employees. One of them is brewer and owner Kevin Brand.
"I really haven't skipped a beat," Brand says. "My plans were to grow fairly organically. And In the last few months I've just exceeded my expectations and I'm selling beer faster than I can brew it."
Another change in beer consumption is that people are buying fewer imports, presumably because they're pricier. But this fact has not affected construction of one of the largest breweries in the world.
Grupo Modelo is building a gargantuan new brewery south of Piedras Negras, Mexico, just across the border from Eagle Pass, Texas. When finished in the spring of next year, it will produce enough Corona to supply the entire U.S. market. Corona beer is the top imported beer in the U.S.
Sprawled across the scrub desert, the cerveceria looks like a moon colony under construction, with its towering malt silos, mammoth stainless steel tanks, and 15-story warehouse.
"The American public is the biggest beer market in the world," says Juan Manuel Prado, health and safety manager at the new brewery. "Drinking beer is part of your culture. Other products might be affected by the economy, but everything revolves around beer. When you're sad, you have a beer; when you're content, you have a beer."
With the new Corona brewery gearing up to produce 7,200 bottles of beer a minute when all four production lines are running, they certainly hope the American thirst for beer stays recession-proof.