Doing It Again: The Revised 'Joy Of Sex'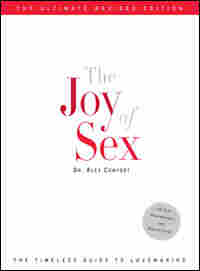 The Joy of Sex: The Ultimate Revised Edition
By Alex Comfort and Susan Quilliam
Crown Publishing Group
Hardcover, 288 pages
List Price: $29.95
Sexual Evolution
The illustrations in The Joy of Sex reflect the aesthetic of the ages:
Looking back from a distance of more than three decades, there's something hilariously off about sexologist Alex Comfort's best-selling ode to getting it on, The Joy of Sex. That groundbreaking first edition, published in 1972, brims with hippie wisdom, general male cluelessness — and hair. A woman's armpits, it counseled, "should on no account be shaved," as not to soften their furry eroticism, and deodorant for both sexes was to be "banned absolutely." In the book's once-notoriously explicit charcoal illustrations of acrobatic sex acts, the woman's hirsute lover, in retrospect, bears a sidesplitting resemblance to the GEICO caveman. And the manual, which describes female genitalia as "slightly scary" to some men, offers strategies for the "defloration" of women.
Thankfully, the newly revised Joy of Sex -- the book's first major reissue since Dr. Comfort's update in 1991 and death in 2000 — approves of waxing and shaving, subs out Serpico and Janis Joplin for a pair of impeccably groomed models and substantially reworks the material to reflect up-to-date knowledge about male and female sexuality.
True to its original structure and subtitle — A Gourmet Guide to Lovemaking — this new how-to is still modeled on a cook book (with chapters titled "Ingredients," "Appetizers," "Main Courses," etc.) and remains a smorgasbord of stimulating, if somewhat buttoned-down by Internet-era standards, ideas and images. Intact, too, is its exclusively hetero orientation and humorously staid and clinical tone. Here's a passage from the manual's not-especially-spicy fetish section, "Sauces and Pickles": "How [sexual turn-ons] become programmed in a given individual isn't known, but there is an identifiable repertoire of components, like the repertoire of feathers one can use in a lure, from which most of these stimuli are made." Hey Miss Manners, bust out the handcuffs!
It's not that The Joy of Sex lacks intentional humor, especially in the hands of this edition's "reinventor," U.K. relationship psychologist Susan Quilliam. Any sex guide that refers to a woman's post-coital attempts to re-arouse her male partner as "corpse reviving" is OK with us. It's just that the book's refusal to be indelicate extends even to its core mission: the promotion of healthy sexuality. Limited to just three of nearly 300 pages, the crucial discussion of STDs and safe sex is treated like a buzzkill.
Of course, the publishing success of The Joy of Sex led to multiple imitators. Arguably, the best is the pansexual, playfully irreverent and more comprehensive Guide to Getting It On, which, itself, is available in a newly minted sixth edition. Still, there's something to celebrate about the enduring life of so seminal a piece of educational literature as The Joy of Sex. For pride's sake, at least — and on the assumption that, one day, this polite primer will be purloined by your tweenaged sons and daughters — wouldn't you really rather have it hidden somewhere in your bookcase than, say, Tickle His Pickle or The Complete Idiot's Guide to Amazing Sex?
The Joy of Sex
Hardcover, 288 pages |
purchase
Buy Featured Book
Title

The Joy of Sex

Author

Alex Comfort and Susan Quilliam
Your purchase helps support NPR programming. How?
Excerpt: 'The Joy of Sex: The Ultimate Revised Edition'
The Joy of Sex: The Ultimate Revised Edition
By Alex Comfort and Susan Quilliam
Crown Publishing Group
Hardcover, 288 pages
List Price: $29.95
Love
We use the same word for man-woman, mother-child, child-parent, and other interpersonal relations — rightly, because they are a continuous spectrum. In talking about sexual relations, it seems right to apply it to any relationship in which there is mutual tenderness, respect, and consideration — from a total interdependence where the death of one partner maims the other for years, to an agreeable night together. The intergrades are all love, all worthy, all part of human experience.
Some meet the needs of one person, some of another — or of the same person at different times. That's really the big problem of sexual ethics, and it's basically a problem of self-understanding, and of communication. You can't assume that your "conditions of love" are applicable to, or accepted by, any other party; you can't assume that these won't be changed quite unpredictably in both of you by the experience of loving; you can't necessarily know your own mind.
If you are going to love, these are risks you have to take, and don't depend simply on whether or not you have sex together — though that is such a potentially overwhelming experience that tradition is right in pinpointing it. Sometimes two people know each other very well, or think they have worked things out through discussion, and they may be right. But even so, if it's dignifiable by the name of love, it's potentially an open-ended experience. Tradition has tried to cut the casualties by laying down all kinds of schedules of morality, but these never work 100 percent in practice. Nor are they of much use in classifying the merits of different kinds of relationships.
If sexual love can be — and it is — the supreme human experience, it must be also a bit hazardous. It can give us our best and our worst moments. In this respect it's like mountain climbing — over-timid people miss the whole experience; reasonably balanced and hardy people accept the risks for the rewards, but realize that there's a difference between this and being foolhardy. Love, moreover, involves someone else's neck besides your own. At least you can make as sure as may be that you don't exploit or injure someone - you don't take a novice climbing and abandon them halfway up when things get difficult. Getting them to sign a consent form before they start isn't an answer either. There was a great deal to be said for the Victorian idea of not being a cad ("person devoid of finer or gentlemanly feelings"). A cad can be of either sex.
When this book was first written, the world was in the middle of the most radical rethinking of sexuality ever - and the subsequent rethinking of love. The prediction then was that sex and love could be divorced, and no-strings sex is certainly now more common. But most of us still require a connection before we can do any more than simply perform; love may not be all you need, but it's an essential for any except the most basic satisfaction. Equally, when the going gets rough in relationships, good, pleasurable sex can bring you through. When you make love, you do exactly that.
Excerpted with permission from The Joy of Sex: The Ultimate Revised Edition, by Alex Comfort (Crown Publishing Group, 2009).