An Emergency Room Built Specially For Seniors
An Emergency Room Built Specially For Seniors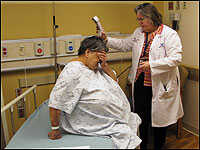 Only infants go to the emergency department at a higher rate than people 75 and older, according to a recent federal government survey. For years, many hospitals have set up separate emergency rooms just for kids. Now, Holy Cross Hospital in Silver Spring, Md., has set up an ER specifically for patients 65 and older.
The ER opened last November and takes older patients, unless they're considered trauma patients. When the hospital decided last year to build the separate emergency room, Dr. James Del Vecchio had some ideas about how it should look. For example, Del Vecchio, the medical director for the emergency department, thought the walls should be painted a soothing blue.
"But after speaking with some specialists who really understand the aging of the eye and the retina," he says, "we found a lot of interesting things that I didn't know about in my medical training."
The aging eye perceives colors differently. Those blues that Del Vecchio thought would look so nice, instead "tend to look more as gray colors in the aging retina," he found out. "And the gray colors would be then perceived as dirty."
Designed For Seniors
So the walls in Del Vecchio's ER are a rich golden brown, with lots of contrasting white. That makes it easier for an older person to see where one exam room stops and another starts. And because an aging eye can be confused by the glare on a shiny floor — it can look like a hole or an obstacle — the floors use a soft surface with a wood finish.
There are lots of little innovations like this at the Holy Cross ER that add up to a big improvement in caring for seniors. For added privacy and quiet, there are walls between the exam rooms instead of curtains. The nurses use monitoring devices about the size of a cell phone, instead of tethering patients to big heart monitors that make it hard to move around. The mattresses are extra thick, too; Holy Cross even had older volunteers come in and try out different ones before they bought the ones they use in the ER.
Specially Trained Staff
But the biggest change in the ER is something that's not immediately visible: It's the staffing.
Doctors and nurses are trained in geriatrics. And there's a full-time social worker, a position not usually found in a regular emergency room.
On a recent day, Marcy Smith, the geriatric social worker, helps a thin, distinguished-looking 91-year-old man. He arrived in a wheelchair, pushed by his son and his in-home caregiver. The man had a stroke last summer. Some of his words come out right, but many come out twisted. Smith introduces herself, kneels on the floor by his wheelchair and listens carefully. Her first job is to make sure he's physically comfortable, but also to make sure he gets the information he needs.
Long waits and lack of information are among the biggest problems for patients in an ER. And those can be particularly difficult for older patients who may have problems hearing — and trouble communicating with staff — or who deal with dementia and can feel anxious in a strange place, surrounded by strangers.
By noon, all eight exam rooms are filled up with patients who've come with complaints typical of the elderly. There's a woman who's fainted, one who fell out of bed, another who's hurt her wrist, one complaining of numbness, the 91-year-old man with a lingering fever and a woman who's having trouble swallowing.
Geriatrician Bill Thomas, who helped Holy Cross design the seniors ER, says traditional emergency rooms were set up to be good at treating trauma and to treat it quickly. But most problems that bring older people to the ER are related to chronic disease and treating those problems takes time.
"The physical environment of the emergency room is famous for lack of privacy, for loud, confusing sounds and for very rapid and changing staff interaction," says Dr. Thomas, a professor at the Erickson School at the University of Maryland, Baltimore County. "And what's different in this innovation is now the emergency department is saying, we're going to change to meet the needs of the older people, not the other way around."
Good Care For Older People
At Holy Cross, the geriatric social worker will also try to get to know each patient as much as possible in the short time that they're in the emergency room. Marcy Smith tries to figure out if there are underlying causes to the problem that's brought them to the ER. For example, many who come here to get checked after a fall return to a house full of tripping hazards. Or they get sent home with a prescription, but have no way to get it filled. The geriatric social worker follows up the next day with a phone call at home. One goal is to lower the rate in which older patients return to the ER.
Del Vecchio says the ER can better handle the complex medical problems of older patients because it's small with extra staff, who, like the social worker, are trained in geriatrics.
"Traditionally, there'd be more of a focus just on, what are you here for today," he says. "I think now we've kind of broadened out, we're looking at more than just what are you here for today and kind of looking at the patient as a whole."
But not every hospital can easily set up a separate ER. Del Vecchio notes that Holy Cross was able to build the seniors' ER because it had extra space next to its regular ER. Also, the hospital's foundation set aside $150,000 to build it. But Thomas says the innovations at Holy Cross — from comfortable mattresses to extra staff — can be applied to emergency rooms for people of all ages.
"Good care of older people," Thomas says, "teaches us how to take good care of everybody."
Web Resources