Why Hollywood Should Never Try To Be Tasteful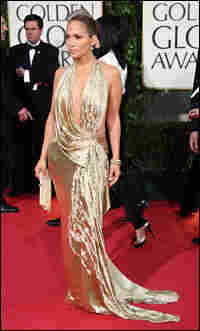 Oscar week continues! I am limbering up in preparation for the AMC Best Picture Showcase on Saturday, and on Sunday night, I will be joined by NPR Music Editor Stephen Thompson as well as writer and film producer John Ramos to discuss the awards live. I'm particularly happy to be teaming up with John -- we were colleagues at Television Without Pity (where you might have known him as the Couch Baron) and I am sure he is just as pitiless as I recall.
One of the big questions surrounding this year's Oscars seems to be whether there will be less flash at Sunday's Oscars because everyone wants to be sensitive about the economy.
It's a reasonable idea, in theory, to tone down the ostentatious overindulgence to keep people from concentrating on awkward thoughts like, "Hey, I could get my house out of foreclosure if I could have one of your earrings." But when it's done consciously -- when it's a bunch of stylists talking about simplifying celebrity jewelry out of respect for people who've been laid off -- it sounds outrageous. Check out this quote from the L.A. Times piece linked above:
"It used to be chic to say, 'I'm wearing $16 million worth of jewels,' " said publicist Howard Bragman, who specializes in crisis counseling for celebrities. "That's distasteful right now."
It's distasteful "right now"? (Not to mention, "crisis counseling for celebrities"?)
A unique use of the word "job," and more, after the jump...
Dear Howard Bragman: Announcing that your jewelry costs sixteen million dollars was always distasteful. Those of us at home are not fools; we have never held celebrity red-carpet behavior to the same standards we would apply in our own lives. It's distasteful for an industry to throw a giant party in its own honor. It's distasteful to make an event out of your own dress. It was never not tacky to be in the news for wearing shoes that cost a million dollars. We overlook it because it's escapist and beautiful and sort of funny, not because purses with feathers have ever been an exercise in good taste.
To try to make it sound like Oscar fashion can avoid clashing with ordinary people's lives only makes it much worse. Listen to the hair stylist who kept Beyoncé's hair from "compet[ing] with her 200-carat Lorraine Schwartz diamond necklace" at the Golden Globes, as she tries to explain why that's just the way things have to be: "Beyoncé's brand is glamour...She has an image to live up to. It's her job."