The Academy Awards: The Critics Vs. The Crowd
The Academy Awards: The Critics Vs. The Crowd
The top grossing films of 2008 were The Dark Knight, Iron Man, Indiana Jones, Hancock, and WALL-E. But the 2009 Oscar nominees for best picture are The Curious Case of Benjamin Button, Frost/Nixon, Milk, The Reader, and Slumdog Millionaire.
So what do you think? Do Academy members have the best taste, or are they out of touch?
Guests:
David Carr, culture reporter and media columnist for The New York Times
Murray Horwitz, Talk of the Nation movie guru
Money Makers Mostly Snubbed By Oscars
Money Makers Mostly Snubbed By Oscars
Web Chat: NPR film critic Bob Mondello joined Monkey See blogger Linda Holmes to run down the nominations.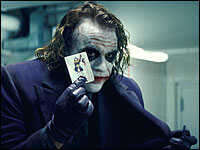 Stephen Vaughan/Warner Bros.
The Dark Knight, Iron Man, and Indiana Jones were hits at the box office in 2008. But only one of those films got a major Oscar nomination — Heath Ledger, for supporting actor in The Dark Knight.
Linda Holmes writes the 'Monkey See' blog for NPR, and she has some opinions on the academy's selections.
"I think the biggest surprise for me was that neither The Dark Knight nor Wall-E managed to get a Best Picture nomination," Holmes says. She also was surprised to see Revolutionary Road and Gran Torino overlooked.
Holmes predicts that Mickey Rourke (The Wrestler) will come away with the Oscar for Best Actor, and Meryl Streep (Doubt) will be chosen as Best Actress.
"I think it's a relatively dull set of nominations," Holmes says. "There really were very few surprises ... a lot of what everybody expected to see."
Which nominations surprised you? Where do you think the Oscar committee goofed?