An Instrument A Day, Crafted By Hand
An Instrument A Day, Crafted By Hand
Hear A Sample Of The Magnet Music Box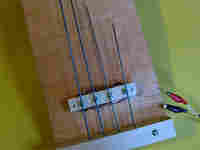 Hear A Sample Of The Amplified Kalimba
Hear A Sample Of The Kelphorn
Hear Music From the Performance
"Kraut Freakout," Performed Live By Ranjit Bhatnagar And The Glass Bees
Hear Homemade Instruments
On a recent Wednesday night, Ranjit Bhatnagar put his instruments to the test before a live audience at Barbes, a club in Brooklyn's trendy Park Slope neighborhood. They weren't guitars or drums, at least not in the traditional sense, but homemade musical instruments constructed from primitive materials: found objects, spare electronics and household items.
Bhatnagar spent the month of February handcrafting a different musical instrument each day — 28 in all — as part of an online challenge called Thing-A-Day, which asks artists, inventors and anyone with a love of crafts to create something new every day for an entire month and document the process.
Bhatnagar makes most of his instruments with found items — no fancy craftsmanship here. If he spots something in the trash on his walk home, that could be his next instrument. Bhatnagar's diverse assortment of instruments ranges from an amplified version of an African kalimba to tiny motorized gadgets that strike strings and drum heads to percussives that chime and rattle to magnetized music boxes and homemade record players with distorted sounds pouring out. For Bhatnagar, it's all about finding objects that might sound good.
"As a sound artist," Bhatnagar says, "I'm interested in objects that make sounds. I wouldn't claim to be anything like a professional instrument maker; I'm playing around. I'm exploring really simple instruments and I'm learning a whole lot about how these things work while I'm doing it."
Bhatnagar does not have formal training as a designer or musician — he is self-taught. With a background in engineering and computer programming, he says he is branching out. Bhatnagar's workshop has gradually overtaken his modest-size Brooklyn apartment: Branches and wire and batteries and hardware clutter every surface. You can't move without bumping into an instrument-in-waiting.
Some of the instruments have moving mechanical parts. Others are much simpler, made with bristling sticks and twigs. Or, in the case of his "bass" — a 10-foot tree branch with a cardboard box and a deep resonating string — inspired by an old instrument found during a trip to the Metropolitan Museum of Art's gallery of instruments.
"I spend a lot of time exploring," Bhatnagar says.
Bhatnagar says he wants his audiences to enjoy the music he performs, but he also hopes to inspire people to experiment.
"For a long time," Bhatnagar says, "I thought that there was no place for me in music because I have no formal training. I found that there's a space for experimenting, for making my own music. I really want to encourage everybody to get out there, make some instruments, make some sounds. Maybe what they make will be beautiful, maybe it's not, [but] you should enjoy it either way."
Web Resources