Ahmir Thompson Reflects On His 'Roots'
Ahmir Thompson Reflects On His 'Roots'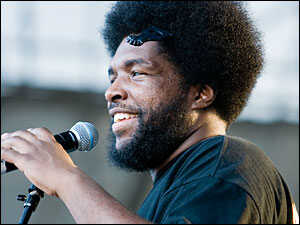 In the world of hip-hop, where most music is sampled, The Roots are exceptional: They play their own instruments.
Ahmir Thompson, also known as Questlove, is the drummer for the Grammy-winning group — a Philadelphia-based sextet that's recently found a new audience as the house band for NBC's Late Night, where Jimmy Fallon just took over for departing host Conan O'Brien. Questlove founded The Roots in 1987 while he was a student at the Philadelphia High School for Creative and Performing Arts.
Reviewing The Roots' 2002 album Phrenology for GQ magazine, rock critic Tom Moon wrote that "their vision for black music tears out in radical directions, encompassing jazz, trance, rock and Brazilian pop. ... Their orbit has included activists, rappers and rock stars, anyone grappling with what it means to be black and alternative."
Questlove grew up around music. His father Lee Andrews led the doo-wop group Lee Andrews & The Hearts, which had the hit "Tear Drops." He talks to Fresh Air host Terry Gross about a childhood spent backstage, about what he sees as African-American culture's transgressive-transformative approach to language, and about what it means to bring musicianship to bear in a genre that doesn't necessarily expect it.
This interview originally aired Feb. 6, 2003.