Med Schools Pressed To Cut Drug-Firm Ties
Med Schools Pressed To Cut Drug-Firm Ties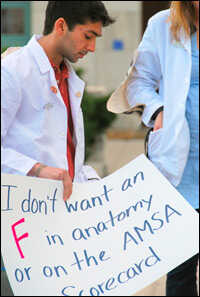 Financial dealings and gift-giving between drug companies and doctors are nothing new. But they're getting a lot more attention these days.
Congress is working on new conflict-of-interest "sunshine" statutes. Massachusetts just adopted tough new limits on industry perks and payments — banning companies from even handing out pens and coffee mugs. And Harvard Medical School has just launched a review of its ethics policies, under pressure from students there who think the pharmaceutical industry's influence has become too pervasive.
Student protesters say they've been pushing for tougher conflict-of-interest rules at Harvard for a half-dozen years. But it wasn't until last fall that their efforts had much impact. A rally on the marble steps of the Boston school — watched over by drug company sales reps who snapped photos with their cell phones — drew attention to the issue.
Dr. Rachel Nardin, a Harvard faculty member who supports the students' cause, says they were upset by an incident last fall involving a lecture course.
"The person giving the lecture mentioned a drug by name," Nardin says, "and only later did one of the students look up [the lecturer] and find that that person had connections to the company that made the drug."
After the students complained, the medical school told its faculty to announce any potential conflicts of interest at the beginning of each lecture.
But the issues are broader than that. Harvard is one of 34 medical schools to score an F on a report card put out last year by the American Medical Students Association, or AMSA. The scorecard ranks school policies on items ranging from consulting and speaking fees to stock ownership and industry gifts, such as free meals, tickets to sporting events, and trips to fancy resorts.
"The F that Harvard received on AMSA's scorecard was because they had what they call long-standing institution policies that were not written down anywhere," says Kirsten Austad, a first-year Harvard medical student from Wisconsin. In every category, Austad says, the AMSA reviewers said Harvard either had no existing policy, or a policy so weak as to be ineffective.
"There's really no comprehensive policy that governs clinical faculty, students and researchers," Austad says. "That's what we're looking for." As an example, she says the students would like to see all free drug samples pooled at a central facility to be given to patients who can't afford prescription drugs — not given directly by companies to individual doctors.
Students also complain that drug company salesmen, though barred from interacting with students in classroom buildings, are free to roam the halls of Harvard's affiliated teaching hospitals, where they've been known to strike up conversations with young doctors in training.
This month the medical school launched a review of its conflict-of-interest policies. It's part of a university-wide look at conflicts of interest.
Gretchen Brodnicki, the medical school's dean of faculty and research integrity, says the atmosphere has changed considerably since the policies were last revised, in 2004.
"The climate and the concerns around that time were pretty exclusively limited to conflicts of interest in research and ensuring objectivity in science," Brodnicki says. The current policy, she adds, doesn't deal with conflicts affecting teaching or care of patients.
Not all Harvard medical students agree that new limits on faculty interactions with industry are needed. One countergroup, calling itself the Benjamin Rush Society after a Revolutionary War-era Boston physician, counts more than 100 members, compared with around 200 in the student group agitating for stricter limits.
Vijay Yanamadala, a second-year student in the Benjamin Rush Society, says he believes that Harvard faculty members "are trustworthy, and that they are not inherently presenting to us information they feel is wrong."
"Every source is biased in some way," Yanamadala says, and "by simply removing industry sources, we're not going to be removing all systematic sources of bias."
He argues that it's enough to require faculty members to reveal their financial dealings with drug and device makers, not avoid them altogether.
But others argue that disclosure isn't enough. Dr. Adam Urato is among those. He's a 1997 graduate of Harvard Medical School who is now on the faculty at nearby Tufts Medical School. Urato thinks medical schools are rife with financial conflicts.
"We often throw this example around," Urato says. "It's not that you want your wife, when she's being unfaithful to you, to disclose that to you. You want her to stop being unfaithful to you. That's the root of the issue."
If schools merely require disclosure, he adds, that can paper over the conflict-of-interest problem. "There's a study that shows that when people disclose, they often feel that they've kind of washed their hands of that, and then can go about and provide perhaps even more biased or influenced information at that point," Urato argues.
Brodnicki, the Harvard dean in charge of the policy review, says it will consider new rules that go beyond disclosure. And it will also include better ways to monitor faculty to see just what their potential conflicts of interest are.
Related NPR Stories