Laura Gibson: Muted Beauty In The 'Shadows'
'Shadows on Parade' by Laura Gibson
Thursday's Pick
Song: "Shadows on Parade"
Artist: Laura Gibson
CD: Beasts of Seasons
Genre: Folk-Pop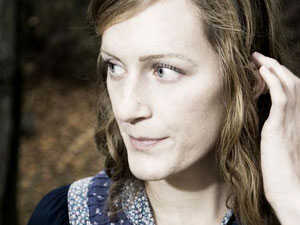 Every day this week, Song of the Day will showcase a track by an artist playing the South by Southwest music festival. For NPR Music's full coverage of SXSW — complete with full-length concerts, studio sessions, blogs, Twitter feeds, video and more --click here. And don't miss our continuous six-hour playlist, The Austin 100, which features much more of the best music the festival has to offer.
Laura Gibson is as far from flashy as singer-songwriters get: Where most project their voices to grab an audience's attention, Gibson seems to sing inward, directing her words into her own lungs for safe keeping. Given the singer's unassuming persona, Gibson's new Beasts of Seasons is a revelation, as sonically rich as it is characteristically quiet.
Split into "Funeral Songs" and "Communion Songs," the album blends darkness and light, maintaining an emphasis on the former. Beasts of Seasons opens, funereally enough, with the seven-and-a-half minute epic "Shadows on Parade," but this is no mere dirge. Opening amid feedback squalls, the song quickly offsets the dissonance with harp-like strums on an acoustic guitar, setting the tone for a somber, dreamlike journey that drifts along gently while retaining its muted beauty.
Listen to yesterday's Song of the Day, and subscribe to the Song of the Day newsletter.
Web Resources