Newspapers Wade Into An Online-Only Future
Newspapers Wade Into An Online-Only Future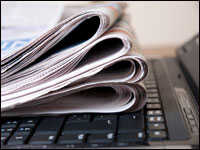 As revenues wither for troubled newspapers, journalists and executives are looking for salvation in the very technology that's tearing their industry apart. But that salvation — still unproven — will demand exceptional change.
Earlier this week, the Hearst Co. stilled the presses at the Seattle Post-Intelligencer, leaving the rival Seattle Times as the only big daily in town. But it's not completely over for the Post-Intelligencer — the paper will continue to exist in an online-only form.
"Being the second newspaper in Seattle didn't work," says Hearst Newspapers President Steve Swartz. "We are very enthusiastic, however, about this experiment to create a digital-only business in Seattle with a robust community Web site at its core."
If you missed the word "newspaper" tucked in there, it wasn't your fault. The mission is being defined entirely differently. There were 135 journalists employed by the print version of the Post-Intelligencer, says Swartz. But the online-only Seattlepi.com held on to just two dozen journalists. And though reporters and columnists are focusing on local government, courts, transportation and sports, there is a lot they won't cover.
Instead, Swartz says the Post-Intelligencer will link to stories elsewhere — from sources that include the rival Seattle Times — and offer its readers commentaries from local civic leaders and photo galleries.
"Very few people come to our Web site and try to re-create the experience of reading a newspaper — in other words, spending a half-hour to 45 minutes and really reading most of the articles. We don't find people do that on the Web," says Swartz.
The online-only plan for newspapers remains an unproven financial model; there are great savings by scrapping printing and delivery costs, but even greater lost revenues, since advertisers pay far more money for print ads than online ads.
Joel Kramer, the CEO and editor of the online-only MinnPost in the Twin Cities, says it is simply not financially feasible to replicate a printed newspaper in a publication based only on the Web. Instead, says Kramer, the Web site tends to "pick our spots and write when we have something new to add."
"Most stories we don't cover every day," Kramer adds. "We are more like a newsmagazine — something closer to Slate or Salon than to a daily paper."
MinnPost competes with the St. Paul Pioneer Press and the Minneapolis Star Tribune, the paper that Kramer used to edit and publish. But Kramer says the tone of the MinnPosts' coverage differs too.
"Our site is more engaged with the readers than we used to be in the newspaper business," he says. "Our writers have much more freedom to be analytical — they combine news with commentary."
Kramer operates MinnPost as a not-for-profit, which is funded by foundation grants, donations from readers and revenue from online ads.
In Denver, where the Rocky Mountain News recently closed down its operations, three entrepreneurs are attempting to help a group of the paper's former journalists launch a news site called In Denver Times. But a big question mark hovers over the project. The group says in order to start, it must persuade 50,000 people to pledge to pay at least $4.99 each month for a subscription to the site by April 23. As a point of comparison, Colorado Public Radio, based in Denver, has about 35,000 dues-paying members. And unlike Colorado Public Radio, the proposed In Denver Times is set up as a for-profit enterprise.
Though links to breaking news stories would be free, only subscribers would be able to chat online with the site's reporters and columnists or to receive news updates on their iPhones and BlackBerrys.
"If the people truly believe that they want to hear multiple voices, multiple opinions, then they need to show us that they are willing to pay for it," says Kevin Preblud, one of the business executives backing the project. "Good journalism requires a commitment and investment in these writers."
The brief record of online-only news sources — even those that started as conventional, printed newspapers — suggests they shouldn't really be considered online newspapers. Two years ago, the Scripps Co. (which owns the recently shuttered Rocky Mountain News) killed the Cincinnati Post and launched KYPost.com, an online-only version of the paper focusing on the nearby suburbs in Northern Kentucky. It features stories about the region done by staffers for the Scripps-owned television station in Cincinnati and also gives concise updates of a lot of very local news — such as community events, honors and scores. But Managing Editor Kerry Duke says a lot of aspects of the old printed Post just aren't there.
"I'll get phone calls from people who were newspaper readers and they'll ask, 'Where are the classifieds?' Well, we don't have a classifieds section," says Duke.
The Post was by far the smaller of two dailies for Cincinnati, and it yielded to the stronger Enquirer, which is owned by the Gannett Co. Even so, a new Princeton University study connected a recent drop in voting in those Kentucky counties to the disappearance of the printed Post, which had acted as a constant watchdog on elected officials.
It's worth remembering that in each of these big cities — Seattle, Minneapolis, Denver, Cincinnati — a dominant daily is still limping along. Perhaps the real test for the value of these online news sites will arrive once the final edition of the last big paper in town rolls off the presses.
Related NPR Stories