Mating Rituals: Hammerhead Bats Honk To Woo
Mating Rituals: Hammerhead Bats Honk To Woo
Jack Bradbury/Cornell University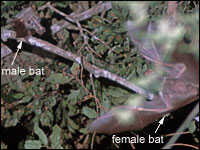 Jack Bradbury/Cornell University
On a river in the African country of Gabon, behavioral ecologist Jack Bradbury went searching for one of the most unusual of animals: the hammerhead bat.
The male is huge — with a 3-foot wingspan, a large head and a bizarre face. This is an animal made to sing: Its larynx takes up more than half its body. That's because the male of the species, Hypsignathus monstrosus, must sing to get sex.
Hammerhead bats, says Bradbury of the Cornell Laboratory of Ornithology in Ithaca, N.Y., are "lekking" species. A lek is a large gathering of male animals intent on mating with females. In Gabon, groups of sometimes as many as 150 males, hang from trees along a river and sing their loud, honking calls. Females fly along the rows of hanging males, eliminating those whose songs aren't appealing.
As a female approaches, the male varies his call, creating a "staccato buzz — a very, very loud, rapid buzzing sound," says Bradbury. Only about 10 to 20 percent of the males get a chance to "buzz," as the females are notoriously picky. They'll narrow the choice down to one lucky bat before mating. When she's done, she pushes off into the air and offers her own post-mating vocalization, a "release sound," says Bradbury.
"Like most lek species, sage grouse for example, it's how you perform a standardized display that often seems to make the difference," he says.
"These are not terribly smart bats. I think most of the synapses in the brain of this male bat [are] devoted to sex, and he doesn't have much else on the mind, except getting some food."
But Bradbury says the male is magnificent looking — enormous eyes, a huge and largely hollow head designed to help the vocalization resonate, and lips that are fluted to further project its song. He may not look like Sinatra, but the results are remarkably similar.