Our Winning Garlic Recipe Is A Tongue-Twister
Our Winning Garlic Recipe Is A Tongue-Twister
Dice it, mix it, mash it with potatoes or shrimp or pasta — a little garlic goes a long way in the kitchen. We asked you to send us your garlic recipes — and you sure did. California garlic farmer Chester Aaron picked his favorite three from your submissions and handed them over to NPR food essayist Bonny Wolf.
Chef Carla Hall from the Bravo show Top Chef and Chef Rock Harper, winner of Fox's Hell's Kitchen, gathered at Wolf's home to pick the winner.
Wolf prepared the dishes and our judges started tasting. In the end, the dish that impressed them most was the one with the scariest ingredients — six to 12 habanero peppers and cup after cup of garlic.
The winner was Silver Bill's Gabanero Tongue-Twister Hot Sauce, submitted by William Maxwell of Vandalia, Mo.
Hell's Kitchen's Rock Harper and Top Chef's Carla Hall help pick the winner.
Silver Bill's Garbanero Tongue-Twister Hot Sauce
A half cup of Silver Bill's Garbanero Tongue-Twister Hot Sauce is rumored to be capable of reviving a horse that's been dead less than an hour.
Ingredients
1 quart peeled garlic cloves
6 to 12 bright red habanero peppers
2 6-ounce bottles Goya Louisiana Hot Sauce
1 tablespoon seasoned salt
1 tablespoon freshly ground black pepper
Directions
Snip the cluster end off each garlic clove. Remove seeds from the habanero peppers. Use at least 6 habaneros or more, depending upon their size and the maker's taste and/or threshold of pain.
Combine all ingredients and liquefy in a blender. For a thinner sauce, add more Goya Hot Sauce.
Green Garlic Crab Cakes With Cilantro Cumin Cream
Ingredients
Cilantro Cumin Cream
1 cup packed cilantro, including stems
2 tablespoons fresh lemon juice
8 ounces sour cream
1 teaspoon cumin
2 tablespoons minced green garlic
salt
pepper
Crab Cakes
1/4 cup mayo
1/8 cup minced green garlic
4 tablespoons minced red pepper
2 large egg yolks
2 tablespoons lemon juice
1 tablespoon minced fresh cilantro
1 tablespoon spicy mustard
1 tablespoon lemon zest
1/4 teaspoon white pepper
1 pound crabmeat (biggest chunks broken up)
1 1/2 cups breadcrumbs or panko
Oil and butter for frying the crab cakes
Making The Cilantro Cumin Cream
Combine the first three ingredients in a food processor. Stir in cumin and garlic. Salt and pepper to taste. Let flavors meld while making crab cakes.
Making The Crab Cakes
Combine all ingredients in order. Make small crab cakes, about 2 inches in diameter, a little more than 1/8 cup each. Heat 1 tablespoon light olive oil with a little butter on medium heat, and cook cakes until a golden crust forms — about 3 minutes for the first side, 2 minutes for the second. Add more oil or butter as needed for subsequent cakes (but don't overdo it).
Recommended over a very lightly dressed early greens salad, including baby arugula and baby amaranth greens. Roasted new potatoes are great, too. Serve cilantro cream on side.
Tapas-Style Fried Potatoes With Shrimp And Garlic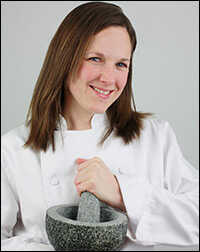 A garlicky, spicy potato dish that is similar to tapas served in Spain. The potatoes are delicious, especially when dipped into a garlic-infused aioli.
Ingredients
1 1/2 pounds russet potatoes
1/3 cup extra virgin olive oil
8 cloves of garlic, minced
1 teaspoon red pepper flakes
1 teaspoon salt
1 pound medium-sized shrimp, peeled and deveined
1/4 cup fresh parsley chiffonade
Directions
1. Bring a pot of water to boil and add the potatoes. Cook until tender. After they are cooked, drain, cool and cut into 1/2-inch cubes.
2. Heat a large skillet over medium heat and add the olive oil. Heat up the oil and add the minced garlic, red pepper flakes and salt. Cook the garlic for about 30 seconds, then add the potatoes.
3. Toss the potatoes with the oil/spice mixture and cook until the potatoes are brown and crispy all over (turn them every 5 minutes so all sides are evenly brown).
4. Add the shrimp and parsley; cook for three minutes until the shrimp are pink.
5. Serve immediately with crusty bread and aioli. Sprinkle parsley on top for more garnish.