'True Mom Confessions': I Ate The Marshmallows
'True Mom Confessions': I Ate The Marshmallows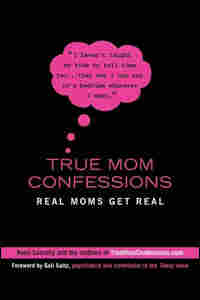 True Mom Confessions: Real Moms Get Real
By Romi Lassally
Paperback, 288 pages
Penguin Group
List Price: $14
A few years ago, Romi Lassally started TrueMomConfessions.com, a Web site that encourages mothers to talk about the triumphs and the tortures of raising kids. She says the site gives mothers an outlet for their "mommy misdemeanors" — a safe space to escape from that idealized notion of how blissful motherhood is supposed to be.
The site was inspired by an embarrassing moment that Lassally, the mother of three, shared with a girlfriend: Late one night, Lassally says, one of her children woke up and suddenly vomited everywhere, "especially on the carpet."
Exhausted, Lassally tended to her child and went back to bed — leaving the vomit on the carpet for the dog to eat.
"I told this story the next morning to a girlfriend who just winced in disgust but, I think, was really marveling at my resourcefulness," Lassally tells Michele Norris.
Lassally's friend, in turn, shared her own red-faced mommy mishap, and the idea for a mommy confessional Web site was born.
"It became a domino effect of women just spilling the beans and saying what they really feel," Lassally says.
Now Lassally has published a collection of posts from the Web site in a new book, True Mom Confessions: Real Moms Get Real. The confessions range from silly — "I eat all the marshmallows out of the Lucky Charms," writes one mom — to serious: "I cry in my car. A lot," writes another.
Lassally says the book and the Web site offer a window into motherhood. She says the anonymity of the site allows for more honest expressions.
"There is a huge disconnect between what we say and how we feel and how we present ourselves to the world," she says. "Even in this tell-all culture we seem to be living in, it's still not easy to say what's on your mind."
Lassally hears from a lot of women who are desperate for more time to themselves. One mother writes, "I used to dread getting gas. But now I enjoy it 'cause I just stand there getting a couple minutes of 'me time.' Sounds pathetic, I know. I must need a vacation!"
Other women share dissatisfaction with their post-baby bodies. But it's not all doom and gloom; some women admit to finding self-confidence despite imperfections. One mother writes:
"I'm overweight. My stomach is covered with stretch marks and is saggy and squishy from recent weight loss. My boobs are saggy. My hips are disproportionately large. My thighs jiggle. My underarms wave way after I stop. And despite all this, I love my body and can't understand why everyone always wants me to change it!"
Related NPR Stories
True Mom Confessions
Real Moms Get Real
Paperback, 266 pages |
purchase
Buy Featured Book
Title

True Mom Confessions

Subtitle

Real Moms Get Real

Author

Romi Lassally
Your purchase helps support NPR programming. How?
Excerpt: 'True Mom Confessions'
True Mom Confessions: Real Moms Get Real
By Romi Lassally
Paperback, 288 pages
Penguin Group
List Price: $14
If They Only Knew:
"Sometimes I lock myself in the bathroom"
As a new mother, I succumbed to my young daughter Phoebe's every fashion whim. As a toddler, she was obsessed with a standard pink leotard with a prickly tulle tutu and she insisted on wearing it everywhere. I mean everywhere. But I was so enamored of her independent style that I even helped her accessorize it with a cotton turtleneck so she could move seamlessly from fall to winter when the temperature dropped. Eventually, her beloved ensemble morphed into a series of Spice Girls-inspired outfits — flared leggings and rhinestone-festooned shirts, several riding high above her midriff.
It seemed adorable until it wasn't. And it wasn't when one day I looked up at her and thought, "Oh, my God, my little girl looks like a stripper."
My emotions were a jumble. I had created this "monster." I'd given in to the whining at the store and purchased clingy, glittery items despite my better judgment and fashion sense. I admit it, she wasn't the only one attracted to these "must-have" pieces; at the time I actually thought a pint-sized version of a sexy starlet was cute. But now I'd come to my senses. My daughter's belly was soft and round and to me, irresistible, but it certainly didn't need to be paraded around the playground, swaddled in sparkles and spandex.
Desperate times required desperate measures. Given that there was no way my daughter was going to give up her glitzy uniforms without a fi ght (and also given the fact that I wasn't up to fighting) I brought in an element which would take things out of our hands: red nail polish. I splattered an entire bottle across her favorite items leaving an army of angry red blotches everywhere. When she discovered the stained clothing in her closet, I shared her shock and disbelief and then we had a somber, brief ceremony when they were disposed of in the trash. It wasn't until recently, as we packed up her room to send her off to college, that I came clean about my dirty trick. Thankfully, we both had a good laugh.
As mothers, we become crafty and resourceful, and resort to thoughts and actions we never thought possible. Who knew I could stoop so low as to actively deface my kids' clothing? Not me. But at the time, it seemed like the only option and a clever one at that. As seen in the confessional, we moms are brilliant at conjuring shortcuts (cleaning up that spill with our pant legs) and coping mechanisms (a little vodka in the thermos at a neverending baseball game) to get through our days and to tackle situations in our harried lives for which there are no how- to lists. Sometimes our "creativity" is worthy of sharing. Yet often, it might be worth sharing, but certainly not with anyone we live with or could bump into at the next birthday party.
The confessional offers an alternative — a chance to unload the embarrassing and the shameful, the creative and the crass. In this chapter it's clear that there are some things we can't, won't or shouldn't tell our kids, our partners or our friends. But it's my belief that everything can be shared anonymously in cyberspace, because you never know when one mom's secret might be another mom's solace or even a solution — something that can help her get through a long day or even longer night and, even if only briefly, let her know that she's not alone.
From TrueMomConfessions.com:
We held a PTA meeting at my house last week. All the moms marveled at my clean home. Thank God they didn't look too closely: I'd put all the dirty dishes in the oven and stuffed the overflowing piles of dirty clothes (and the stinky dog bed) in the hall closet!
***
Often, when I'm trying to figure out what to do with regard to my little girl, I think of my parents and what they would do. And then I do the exact opposite. Sometimes when I spill something on my kitchen floor, I just "mop" it up with the bottom of my pant leg as I walk by.
***
Have you ever seen the show 'Weeds'? That's me. We live in suburbia, have a very happy, albeit semidysfunctional little family, I am a fourth-year university student, my husband owns a successful business ... but we happen to sell marijuana out of the little house that my grandmother left us several years ago. We make a lot of money and it's hard to stop. We'd be pretty well off without that income, but with it we have it made.
***
I went back to work so that I would yell at my coworkers instead of my son.
***
I joined Weight Watchers just so that I would have a place to go by myself once a week.
***
I haven't taught my kids how to tell time yet. That way I can say it's bedtime whenever I want.
***
I got pregnant so I could get a break from working every day.
***
I lean over my babies' beds at night when they're asleep and whisper, "I promise I'll be a better mommy tomorrow." There are just too many days I wish I'd done better.
***
Sometimes when I'm holding my beautiful baby in my arms and we're gazing lovingly at each other, I secretly wish that she would fall asleep so that I could check my e- mail.
***
I eat all the marshmallows out of the Lucky Charms.
***
I play Guitar Hero after my kids leave for school because I want to finally beat them with a higher score!
Excerpt of True Mom Confessions was provided by The Berkley Publishing Group/The Penguin Group. Copyright 2009 by Romi Lassally.