Papercuts: A Pop Throwback, Oozing Heartache
You Can Have What You Want
Thursday's Pick
Song: "You Can Have What You Want"
Artist: Papercuts
CD: You Can Have What You Want
Genre: Pop-Rock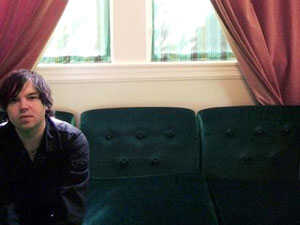 Papercuts' Jason Robert Quever has a thing for the music of the '60s: His focused pop nuggets exude feel-good charm and a touch of sadness, channeling the spirit of The Zombies and The Byrds along the way. Or at least they used to. If 2007's Can't Go Back was the singer-songwriter's nod to the jangly pop of the early '60s, then its new follow-up, You Can Have What You Want, represents a step toward the looser, more psychedelic rock that came later in the decade.
With the assistance of Beach House's Alex Scully, Papercuts delves deeper into more expansive territory. The songs are hazier, with icy guitars and thick, oscillating blankets of keyboards and organs. Recorded exclusively with analog gear — no computers, all vintage instruments — the album conveys an authentically well-worn feeling, as if the listener is looking at a faded old Polaroid.
The song "You Can Have What You Want" opens with a softly strummed acoustic guitar, before giving way to churning synthesizers and an otherworldly chorus. Quever's opening line ("You can have what you want / and throw the rest away") teases out a trope in painful breakups: The notion of separating once-intermingled belongings is an established yet tangible metaphor for a fraying relationship. The languid tempo oozes with heartache, but, as in so many of Papercuts' songs, under the veil of romantic melodies and ghostly harmonies, the song transforms the familiar into something new and hopeful.
Listen to yesterday's Song of the Day, and subscribe to the Song of the Day newsletter.
Related NPR Stories
Web Resources